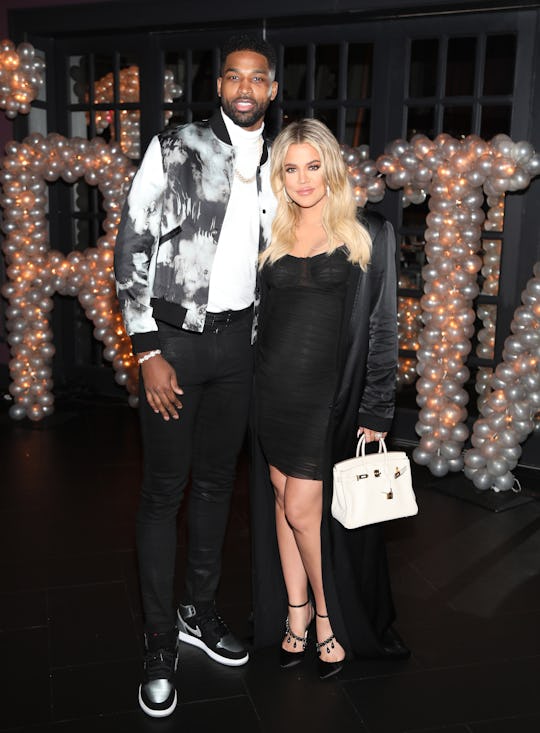 Jerritt Clark/Getty Images Entertainment/Getty Images
Khloé Kardashian Posted A Rare Photo Of Tristan Thompson With Their Baby Boy & True
The mom of two wished her "baby daddy" a happy birthday on Instagram.
Khloé Kardashian has been keeping pretty much every detail about her baby boy private since his arrival via surrogate last August, including his name. But now she's ready for us to see his sweet little face. The baby boy, whose name continues to remain a mystery, was pictured with his 4-year-old sister True and his NBA player father Tristan Thompson, and he certainly looks like a happy little guy.
In an Instagram post on Monday, Kardashian shared a heartfelt message to Thompson in honor of his 32nd birthday along with several photos of him with their children, 4-year-old daughter True and their little boy. "Happy birthday @realtristan13," she began. "You are truly the best father, brother & uncle. Your love, attention, silly dances, hugs, carpool rides, bed time rituals, the way u show up for them."
"All of the above means more than you'll ever know to your family of littles," Kardashian continued. "My birthday wish for u is that u continue to crave change, healing, and transformation. Be strong, be kind, be patient, be free. Continue to Make your soul and your mommy proud. Happy birthday baby daddy."
Kardashian's birthday tribute included photos of Thompson with daughter True, her younger brother, and 5-year-old son Prince who he shares with ex-girlfriend Jordan Craig. His 1-year-old son Theo with Maralee Nichols was not pictured.
While Kardashian covered her baby boy's face in some photos, she did share one of him curled up on sister True's lap with his father and brother Prince all looking down at him. Also pictured were Kardashian's 5-year-old niece Dream and Thompson's late mother Andrea, who died suddenly in January.
Previously Kardashian offered a first look at her son's birth on her Hulu reality series The Kardashians, where she opened up about the emotional birth experience she went through with her recent separation from Thompson before joyfully welcoming her baby boy. Since then, there have been several brief moments where she wanted to share tidbits about her son's life, like his adorable Tigger Halloween costume last year and the time she wore a top with her son's spit-up on it. Fans nearly got a gander at the sweet little boy's face when she posted a family Christmas photo and he wore a tiny tuxedo, but really she saved the clearest pic for Thompson's birthday.
Khloé wasn't the only member of the Kardashian family to wish Thompson a happy birthday. Sister Kim Kardashian shared a video of him on her Instagram Story eating waffles and ice cream to celebrate his big day.
While the two parents have struggled over the years with some pretty serious issues, including multiple cheating scandals on Thompson's side, Kardashian continues to show up for him and support him as father to their two children together.