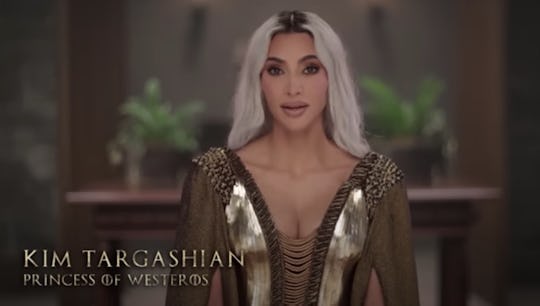 Youtube/The Late Late Show with James Corden
Kim Kardashian Stars In Hilarious House Of The Dragon Parody, The Targashians
Kris Jenner has a new title: "Momager of Dragons."
Since her impressive debut hosting SNL, Kim Kardashian is busting out with her comedic chops again. The Skims founder and mother of four hit the late night TV show circuit to promote the return of The Kardashians on Hulu, and treated her fans to a pretty awesome comedy sketch. Starring alongside TV show host James Corden, the duo starred in a very funny parody of HBO's new hit House of Dragon, cleverly titled: The Targashians.
The official YouTube channel of The Late Show With James Corden recently posted the new video: "The Targashians Take Over Westeros." Corden introduced the comedy sketch by announcing that House of Dragon is already so popular, the show already has a brand new spin off. Corden plays the king Keith Targashian, while Kardashian plays a power-hungry sibling, ready and waiting to threaten his succession. It's a good thing Kim K happens to be sporting her platinum hair these days, as the Targaryens are known for their signature white blonde locks.
It's intriguing to think about who might actually be fans of both the Kardashians and the Game of Thrones prequel, but both shows definitely deal with sibling rivalry, competition for who might be the fave child, and some pretty glitzy gold fashion choices.
Apologies to dragon-lovers everywhere, but this sketch comedy is more of a love letter to all things Kardashian, rather than Westeros fan fiction. With so many insider jokes, it's hard to include them all, but here's a recap of some of the best Kardashian salutes:
And there you have it! Whether in Westeros or the wild burbs of Los Angeles, it looks like Kylie Jenner lands the coveted title of Kris' favorite kid and definitely reigns supreme both IRL and on the silver screen.