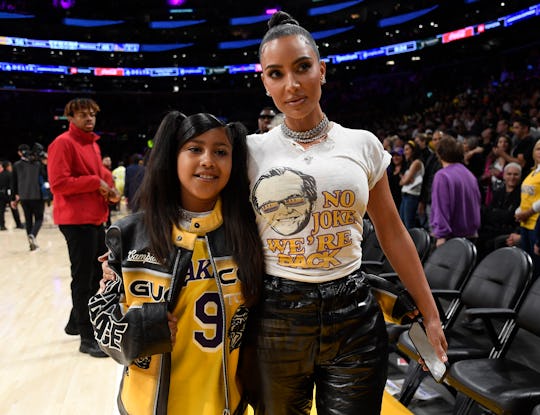 Kevork Djansezian/Getty Images Sport/Getty Images
Kim Kardashian Showed Off North's Painting Of A Beach Sunset & That Girl Is Talented
The Kardashians star and mom of four said last year that North is a "really, really good artist."
North West is not only talented with a makeup brush, Kim Kardashian and Kanye West's oldest daughter is also apparently a little Bob Ross in the making. Kardashian posted a photo of her 10-year-old daughter's latest masterpiece on Instagram and no one would be surprised if this painting sold for a pretty penny one day.
On Sunday, The Kardashians star posted a photo of North's artwork with the caption, "North's new painting" and added four colorful heart emojis. North painted a beach sunset, with the sun reflecting onto the ocean. The waves, the blending of colors, the clouds... it's all impressive.
North has been showing off her artistic talents for years now. In 2021, Kardashian shared a photo of North's painting of snowcapped mountains with trees. "My little artist North," she wrote on her Instagram Story at the time. The painting was so good, some even speculated that North hadn't actually painted it. And Kardashian was having none of that. "DON'T PLAY WITH ME WHEN IT COMES TO MY CHILDREN!!!" she wrote on her Instagram Story after seeing tweets and comments about North's painting. "My daughter and her best friend have been taking a serious oil painting class where their talents and creativity are being encouraged and nurtured. North worked incredibly hard on her painting, which took several weeks to complete. As a proud mom, I wanted to share her work with everyone."
Thankfully, none of the doubters got to North and she's continued to paint and showcase all of her artsy talents. She's even contributed some sketches to her dad's Yeezy line and recently drew a portrait of Ice Spice.
Kardashian is clearly a proud mom and is more than happy to show off her daughter's latest creations. In 2022, while giving Vogue a tour of her home for the magazine's Objects of Affection video series, Kardashian revealed that she has several of North's pieces on display throughout her home. "She's a really, really good artist, and she loves to paint," Kardashian said of North last year, adding that she's painted animals including a wolf and their pet bearded dragon.
"I love seeing the personality and the moods and everything that she goes through and is feeling," Kardashian told Vogue. "It's really been an amazing hobby of hers."