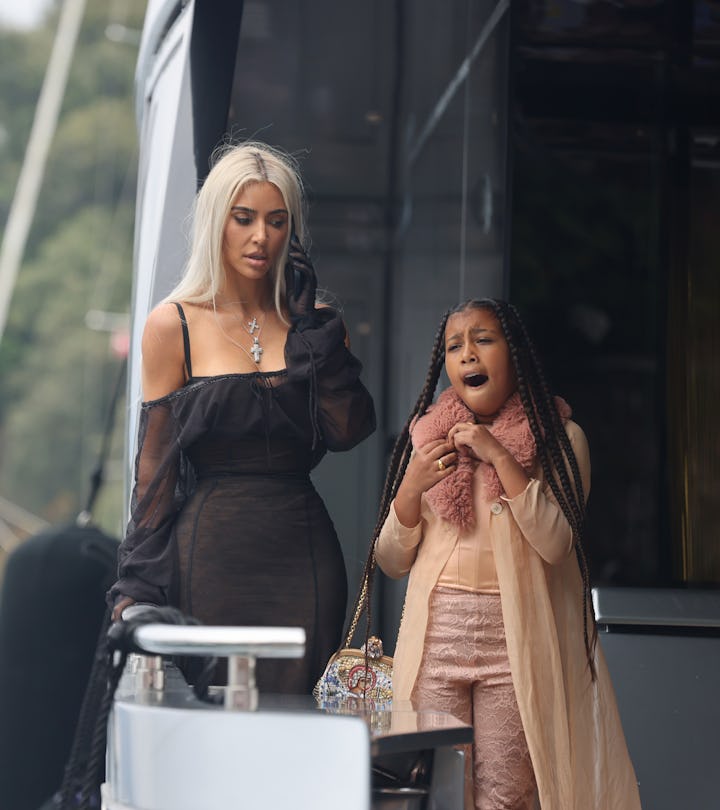 NINO/GC Images/Getty Images
North West Flips The Bird During Family Photos
"It's just a lot being a mom."
Nobody would ever accuse Kim Kardashian's daughter North of not knowing her own mind. The 9-year-old has a history of speaking her mind no matter what, and it seems it can be a bit of a problem when her mom is trying to wrangle all of her kids for a family photo. North has a very specific trademark move whenever she's posing for a family photo that makes them "unusable," according to Kim Kardashian. And that move is called flipping the bird for the camera.
During the season finale of The Kardashians on Hulu, the Skims mogul gave a bit of a behind-the-scenes look at how those iconic Kardashian Christmas cards come to fruition. And trying to manage her kids, 9-year-old North, 6-year-old Saint, 4-year-old Chicago, and 3-year-old Psalm, makes the entire event incredibly stressful. "They always cry. Nobody gets along. Most of the photos I saw were unusable because North was sticking out her middle finger," Kim explained. "It's days like this when I really just need to lock myself in the room by myself for just a good 30 minutes. Yeah, it's a lot. It's just a lot being a mom."
That's right, North likes to give the camera the finger when she's getting her picture taken.
This isn't the first time North has made her, shall we say, strong, personality felt at a professional photo shoot. When Kim and her kids all posed for a little fashion magazine you may have heard of called Vogue, North took over to style everyone because she thought their style choices were "boring." She knows her own taste, that girl, as displayed when she threw a fit over not being able to wear pink snakeskin boots at Paris Fashion Week in 2019. And let's never forget that North went live on TikTok without telling her mom, running around the house, showing millions of people her hamster, her house, her mom in bed totally unaware that she was being recorded.
To be fair to North, she's been followed by the paparazzi for most of her life, her toddler temper tantrums recorded for everyone on social media to dissect after the fact, her photo taken whether she likes it or not.
So maybe she's earned a bit of a signature attitude every now and then.