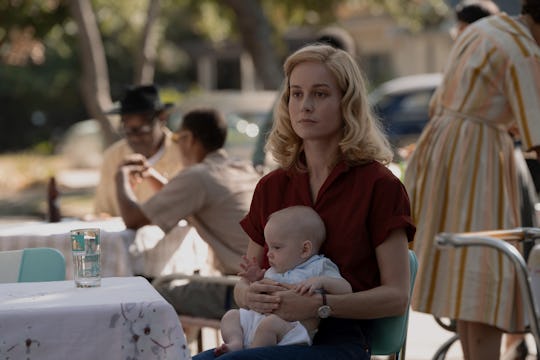 Apple TV+
The Lessons In Chemistry Postpartum Episode Hits Too Close To Home
The fourth episode, "Primitive Instinct," depicts Elizabeth in her first weeks of motherhood, profoundly alone and unable to cope.
Elizabeth Zott, the protagonist of Lessons in Chemistry, never wanted to be a mother. In the new Apple TV+ series (which is based on the wildly popular novel by Bonnie Garmus), she's quite clear that the only role that matters to her is that of scientist — and women in the 1950s do not have the privilege of choosing more than one role to covet. But then Elizabeth finds herself pregnant and alone, a widow save for the small fact that she was not married to the man she loved. And her first weeks of motherhood are brutal. The show should come with a content warning for postpartum depression.
Zott, played by Brie Larson, has previously faced most obstacles in her life with a granite-faced determination that made her difficult to like but impossible to ignore. Her fierce work ethic makes her a formidable chemist, but she can't bring her will and determination to bear on her newborn daughter. I found it painful to watch the fourth episode, "Primitive Instinct," which depicts Elizabeth in her first weeks of motherhood, profoundly alone and unable to cope. A sequence showing Elizabeth trying to soothe her crying newborn and becoming unraveled herself might hit too close to home for some mothers. I know it did for me.
It's a common sensation for a new mom: the sense they are on the outside of 'good motherhood,' looking through the glass at all the moms who have figured it out.
When I read the novel, I was terrified for Elizabeth. How would she make it through this time alone? Watching the show, I felt the same pit in my stomach as I watched Elizabeth quietly unravel. The scene activated intense memories from my own early days of motherhood. My husband went back to work after his two weeks of leave, and each day alone was an eternity as I tried to figure out how to be a mom. I took endless walks, my daughter in a Solly wrap or stroller; I swaddled and bounced and shushed her until I was half-crazed. We'd recently moved to Colorado, a thousand miles away from our families and close friends. I desperately wished for someone to be there with me, to show me what to do to help my baby sleep, to take a turn holding her so I could rest.
In the show, while trying to soothe her newborn, Elizabeth looks out her window and sees her neighbor Harriet (Aja Naomi King) playing on the lawn with her two older children. Harriet is the picture of confident motherhood, playful and loving and firmly in control. It's a common sensation for a new mom: the sense they are on the outside of "good motherhood," looking through the glass at all the moms who have figured it out. When I attended a postpartum group after my daughter was born, one mother shared her birth story. When she was finished, she cuddled her baby close and said, "It's been bliss ever since," with a dreamy expression that convinced me I was a total monster.
Elizabeth might have been feeling the same way as she watched Harriet enjoy her children that evening, but she does one of the bravest things a new mother can do: she reaches out. Baby in her arms, Elizabeth crosses the street and knocks on Harriet's door. She pours out her worries and frustrations, the same ones many moms experience: weighing the benefits of formula vs. breast milk, getting the baby on a schedule, and taking meticulous notes. "I've been monitoring every cry, every bowel movement," Elizabeth says. "And I have so much to do, but I can't do a to-do list because that's one more thing to do."
But the problem is much deeper than adjusting to the new tension of motherhood. With a compassionate listener like Harriet, Elizabeth can admit her greatest fear: "I don't think I'm feeling what I'm supposed to be feeling," she says. "Mothers love their children. It's in their biology. It's just that my biology is making me have terrible thoughts in my head."
"What kind of thoughts?" Harriet asks gently. After a hesitant moment, Elizabeth finally whispers, "Like, what if I just gave her away." Her dead eyed expression is uncomfortably familiar to moms who have known that same anguish.
"We worry if our shameful words hit the air, our monstrousness might be true," wrote Mina Dubin in her book Mom Rage. One of the scariest things a struggling new mother can do is speak aloud the terrifying thoughts in her head. But often, instead of being judged or condemned, the mom hears something unexpected in reply: "Me too."
Harriet assures Elizabeth that her feelings of overwhelm are completely normal. As for me, even though I was alone in Denver with my newborn, I did have my older sisters only a call or text away. They were both unflinchingly honest about their postpartum experiences. I could call them and hear my sister Rachel say, "It's okay not to cherish this time. Having a newborn is brutal." My sister Sarah would remind me that she'd once wanted to drop her baby off at the fire station and hightail it to Mexico.
When my daughter was three weeks old, my isolation became too much to bear. I went to stay with my great aunt and great uncle for a few days. They welcomed me and cared for me. My aunt held my daughter in her arms for hours, rocking her in their potpourri-scented living room. As she patted my newborn's diapered bottom, she said, "This is a good baby." Her words soothed me. Maybe everything would be okay.
Similarly, Elizabeth's decision to reach out bravely and ask for help is rewarded with relief and reassurance. Harriet eventually takes Elizabeth's infant in her arms and coos, "You're so good, aren't you." She's talking to the baby, but in a way, she's giving Elizabeth the same truth. She has a good baby, and she's a good mother. And that's just what every new mom needs to hear.