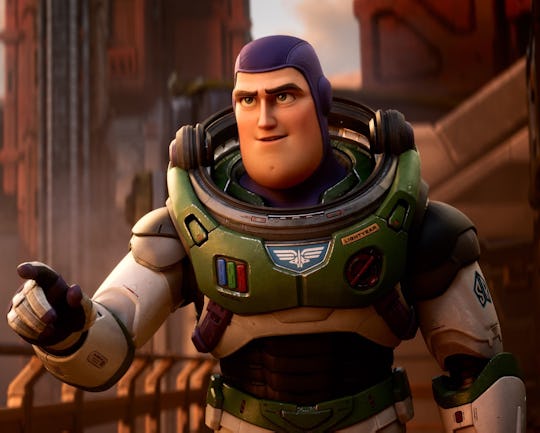 Disney/Pixar
Pixar's Lightyear Is Not A Toy Story Sequel, So Here's What Parents Need To Know
Buzz isn't a "child's plaything" in Lightyear, he's human.
Lightyear is one of the most highly anticipated movies of the summer, and maybe even the year. The new movie is visually stunning and an overall thrilling sci-fi adventure. But how thrilling is thrilling? And what age range is Lightyear appropriate for? Here's what parents need to know for when Lightyear premieres in theaters on June 17.
Lightyear is rated PG.
Lightyear has a received a PG rating for "action/peril." Which isn't a surprise, really: 10 of the 12 most recent Pixar movies — including Brave, Inside Out, and even Luca — have suggested parental guidance. (Fun fact: the first Pixar movie to have a PG rating was The Incredibles in 2004 with Up following in 2009.) As such, parents might want to learn a little bit more about the movie before going to see it, particularly if their kid is especially sensitive or has specific triggers or fears. Personally, I very much saw it as a family film, as have multiple movie critics on Twitter, so generally speaking it's a safe bet.
Several countries have, unfortunately, banned Lightyear from playing in cinemas.
Unfortunately, cinemas in 14 countries in the Middle East and Asia have banned the film for a same-sex kiss between two lesbian characters. (Which is so quick and casual you could blink and miss it.) Reuters reports that the film's theatrical fate in China, the world's largest movie market, remains in question. In many of the countries where the film has been banned, including the Unite Arab Emirates, Saudi Arabia, and Kuwait, homosexuality is a criminal offense.
The UAE's Media Regulatory Office announced on Twitter that Lightyear is "not licensed for public screening in all cinemas in the UAE, due to its violation of the country's media content standards." The scene in question, a brief kiss between a character and her wife, had been previously cut and was only reinstated after protest from Pixar employees in light of Florida's "Don't Say Gay" law.
Though Lightyear is a bit more intense than Toy Story, it's still a family film.
Within the "PG spectrum," we're more in The Incredibles or Brave territory than, say, Finding Dory, but the kind of action we see in the Lightyear trailer — giant, hostile robots, a number of fight sequences, and a bunch of Star Wars–style weapons — is similar to things we've already seen from Pixar in the past. In a promotional interview for the film, Keke Palmer, who plays Izzy Hawthorne, said, "When we say 'epic sci-fi adventure,' we really mean that."
In other words, if your child was scared of Mr. Incredible fighting Syndrome or Mordu snarling at Merida, you might want to preview Lightyear more carefully to see if it's right for your family, but, in general, it's very much kid friendly.
Lightyear is meant to be a live-action movie within the Toy Story universe.
Another big difference between Lightyear and other films in the Toy Story franchise: this Buzz (played by Chris Evans) isn't a "child's plaything." He's human.
We all know that, in 1995, Andy got a Buzz Lightyear toy for his birthday. We now know (based on an introductory message before the movie) that the toy is based on a movie he saw in theaters: this, the filmmakers say, is that movie. Lightyear is a "love letter" to science fiction movies and, overall, a successful stand-alone work while serving as an homage to the Toy Story franchise.
According to Evans, Buzz's humanity changes the tenor of the story a bit. "The Buzz that we all know is obviously a toy," he said in a press conference for the film. "And as a toy, there are certain ways that they can move through the world without the weight that we may carry. A toy knows its purpose. A toy doesn't have to worry about disease. The downstream impacts of the choices that we make as people are a little bit more consequential, and it's fun to put Buzz against that backdrop."
Our verdict: Lightyear is probably a good choice for the whole family.
Lightyear is a family-friendly good time but, of course, every family has different versions of what's appropriate for their kids.
Personally, as a mom of two (and a Pixar fan), I found nothing objectionable when I brought my grade-schoolers and would have felt perfectly comfortable taking them to see it at age 4. (Admittedly, some of the more cerebral sci-fi elements probably would have gone over their heads, but there's enough action that they'd still enjoy it.) The main reason I'd be hesitant to bring my 3-year-old is the fact that I wouldn't trust them to stay seated (or handle the very loud sound system during the many action sequences) in a movie theater. Run time is certainly another thing to consider: Lightyear clocks in at an hour and 45 minutes, making it about 20 minutes longer than Toy Story but about the same length as Toy Story 4. Definitely doable for many preschoolers but maybe more challenging for a toddler. Of course, every kid is different and you know yours better than anyone!
Another good way to see if Lightyear might be too intense for your Junior Space Ranger is to check out the trailer and then maybe show them to see how they react.
The Lightyear trailer features some action sequences that are perhaps more intense than young Pixar fans are used to.
Even if they're a little creeped out by the red-eyed robots, we're guessing the adorable talking robot cat is enough to make them smile!