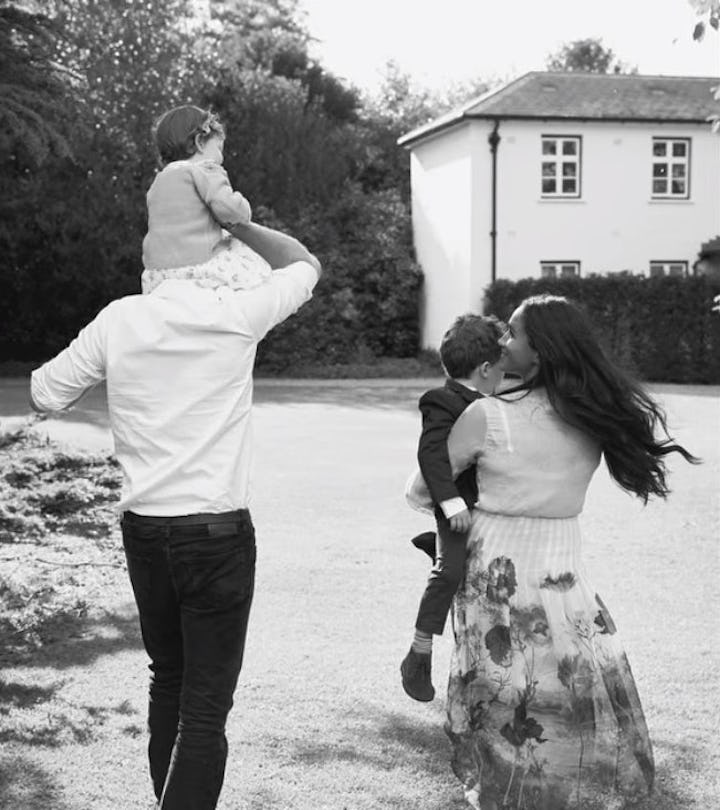 Netflix
Lilibet Was Officially Christened In California & Danced With Archie After The Ceremony
The guest list reportedly included an invite to their royal relatives across the pond.
Meghan Markle and Prince Harry's daughter might not yet be 2 years old, but she's been a trendsetter from the jump. She became one of the first members of the royal family to be born on American soil, certainly the first one so high in the line of succession at any rate. Then she was gifted her great-grandmother's own beloved nickname, Lilibet. And now, she's become the first royal child to be christened in America. As a newly anointed little princess, no less. Here's everything we know about the special day.
Prince Harry and Meghan Markle's daughter Lilibet was christened in California.
A spokesperson for the Duke and Duchess of Sussex confirmed to People on Wednesday that the couple's youngest child, Lilibet "Lili" Diana, had indeed been christened. "I can confirm that Princess Lilibet Diana was christened on Friday, March 3 by the Archbishop of Los Angeles, the Rev John Taylor," the spokesperson told the magazine.
Yes, Lilibet is a princess now.
You read that right, little Lilibet is now officially Princess Lilibet. And her 3-year-old brother is Prince Archie. When their grandfather became King Charles III after Queen Elizabeth's death last September, they both became an HRH (His/Her royal highness). While the royal family website has yet to change their titles and they are still called Master Archie and Miss Lilibet, Buckingham Palace confirmed that the decision to use the new title was approved by King Charles. The website is expected to be updated soon.
The royal family was reportedly invited to her christening.
A source told People that Princess Lilibet's christening was relatively small with a guest list of 20 or 30 people. Their list of invitations also reportedly included King Charles and Queen Consort Camilla as well as Prince Harry's brother Prince William and his wife Kate Middleton. Unfortunately the royals were unable to attend, but hopefully they sent some good gifts.
Tyler Perry attended the christening for his goddaughter.
Meghan Markle and Prince Harry revealed in their Netflix documentary Harry & Meghan that they had asked Tyler Perry to be Lilibet's godfather. He had provided the couple with a safe haven at his home in California when they first arrived in California and has become close with the family. He said yes, and according to Page Six, arrived in Montecito last week on a flight from Atlanta along with a 10 piece gospel choir singing "Oh Hapy Day" and "This Little Light of Mine," both songs that were performed at the couple's royal wedding in 2018.
Archie had a special dance with his sister.
The christening was reportedly an intimate affair with Meghan and Harry treating their guests, including Perry and the Duchess of Sussex's mom Doria Ragland as well as an unnamed godmother, to food and dancing. People reported that Prince Archie even had a special dance with his little sister.
It sounds like the royals on the other side of the pond missed a fun party. Now let's see if they can all reunite for King Charles' coronation in May. That will be something to see.