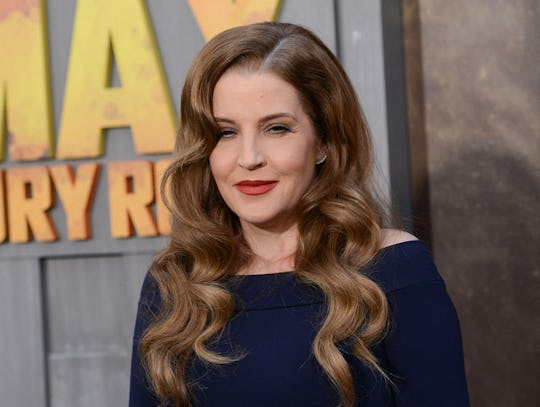 CHRIS DELMAS/AFP/Getty Images
Lisa Marie Presley's Daughter Posted A Beautiful Throwback Photo With Her Late Mom
The late singer had proudly described herself as a "mama lion" among her "cubs."
Lisa Marie Presley, the only daughter of Elvis, died at the age of 54 years old on Jan. 12. The singer and songwriter passed away after being hospitalized for a possible cardiac arrest and has since been laid to rest at Graceland, where several of her family members are also buried. Her mother, Priscilla Presley, first confirmed the heartbreaking news of her passing and Presley's daughter, Riley Keough, has now shared her own emotional tribute to her late mother.
"It is with a heavy heart that I must share the devastating news that my beautiful daughter Lisa Marie has left us," Priscilla Presley said in a statement to the media on Jan. 12. "She was the most passionate strong and loving woman I have ever known. We ask for privacy as we try to deal with this profound loss. Thank you for the love and prayers. At this time there will be no further comment."
One week later, her daughter Riley took paid tribute to her mom on Instagram with a throwback photo of them looking at each other. She captioned the post with a simple red heart emoji.
Lisa Marie Presley was a proud and protective mother.
Not only was Presley linked to her famous ex-husbands such as Michael Jackson and Nicholas Cage, but she was also a loving mother. Presley not only leaves behind her mother and millions of fans but also her four children who she was known to be very protective of over the years. In fact, she once described herself as a "Mama Lion with cubs" in a 2019 picture of herself with her four children.
Below is everything to know about Lisa Marie Presley's beloved children.
Danielle Riley Keough
Danielle Riley Keough, 33, is the oldest child of Presley, whom she shared with her ex-husband Danny Keough. Riley, who is married to Australian stunt performer Ben Smith-Petersen, is an actress and model, posing for outlets and brands such as Vogue, Dior, and Louis Vuitton.
Riley, Priscilla, and Lisa Marie Presley appeared on the cover of Vogue together in August 2004. A few of her notable movie roles include 2010's The Runaway, which was her debut in acting; 2012's Jack and Diane and Magic Mike. In May 2022, she made her directorial debut with her first film, War Pony, at the Cannes Film Festival. Riley is set to star in the upcoming series Daisy Jones & The Six. She told People that her character, who is a musician, reminds her of her mother. "I was raised by somebody who did their own thing and didn't really care what other people thought," she told the magazine. "My mom was definitely inspirational to me. I was always interested in women who weren't behaving 'the right way."
Benjamin Keough
Benjamin Keough was Presley's second oldest and last child with her ex-husband, Keough. In 2020, Benjamin died by suicide at the age of 27. Last July, on the second anniversary of his death, Presley paid tribute to her son and shared a photo of their matching foot tattoos on Instagram. "It's a Celtic eternity knot," she captioned the picture. "Symbolizing that we will be connected eternally. We carefully picked it to represent our eternal love and our eternal bond."
That same year, she penned an essay for People about his loss for National Grief Awareness Day. "I've dealt with death, grief and loss since the age of 9 years old," she wrote, referring to the loss of her father. "I've had more than anyone's fair share of it in my lifetime and somehow, I've made it this far. But this one, the death of my beautiful, beautiful son? The sweetest and most incredible being that I have ever had the privilege of knowing, who made me feel so honored every single day to be his mother? Who was so much like his grandfather on so many levels that he actually scared me?"
Harper Vivienne Ann & Finley Aaron Love Lockwood
Presley welcomed twin daughters Harper and Finley Lockwood, 14, with her ex-husband Michael Lockwood in 2008. The two divorced in 2016.
Not much is known publicly about the girls, but they did stay with their grandmother for some time while their parents engaged in a nasty custody battle after their divorce, New York Daily News reports.
"I just smother them in love," she told Healthy Living in a 2014 interview, according to People. "They are my priority. That's what I do. That's what I care most about. I keep them close to me and make sure they are happy and healthy."
This article was originally published on