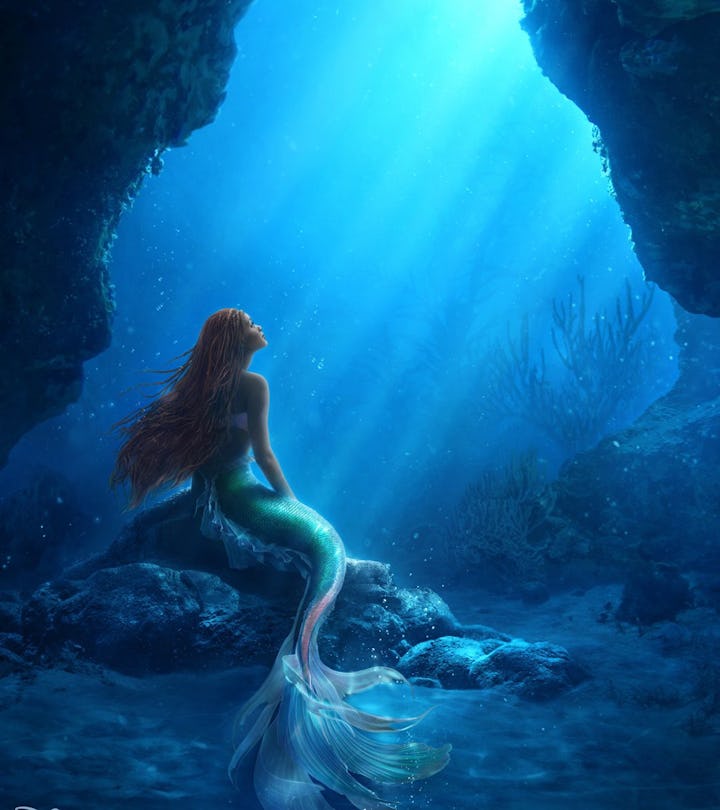 Disney
Halle Bailey Reveals Official Poster For Disney's Live-Action Little Mermaid
The actress said "words can't describe how immensely honored I feel to play the mermaid of my dreams."
The youngest daughter of Triton is finally ready for her debut. After years of anticipation, fans got to see a trailer for the live-action remake of The Little Mermaid. Actress Halle Bailey will bring Ariel to life in the upcoming film, set to premiere in Spring 2023, a role she says has been a "dream come true."
Disney's live-action remake of The Little Mermaid has been in the works since 2016, when the company announced plans to adapt the animated classic. Understandably, The Little Mermaid likely makes for a more complicated live-action remake than some of Disney's earlier live-action releases, including Beauty and the Beast, The Lion King, and even Aladdin. After all, those films took place entirely on land.
Here's everything we know about the new Little Mermaid movie so far.
The first Little Mermaid trailer is here!
The first official Little Mermaid teaser trailer offers just a glimpse of Ariel's world, but was kind enough to include the crescendo of her powerful "I want" ballad "Part of Your World."
Bailey brings Ariel, and her famous beautiful voice, to life.
The official poster also made its debut.
On Oct. 13, Disney released the official poster of The Little Mermaid on its social media platforms. The canvas, oil-like shows Bailey as Ariel sitting on a rock underwater.
Bailey shared the poster on social media with the caption, "Words can't describe how immensely honored I feel to play the mermaid of my dreams, Ariel in Disney's The Little Mermaid. Come under the sea with me, in theaters May 26, 2023."
The Little Mermaid remake has an all-star cast.
There's a ton of star power behind Disney's latest live-action remake. Bailey, of course, has been cast to play Ariel. Outside of the film she stars in Grown-ish and sings alongside her sister in the R&B group Chloe x Halle. Joining her in the role of Ursula is Melissa McCarthy.
"It's been an absolute blast," McCarthy revealed during an appearance on The Ellen DeGeneres Show, before hinting that fans may see her pull off some fairly crazy stunts such as sliding down a 40-foot clamshell. "It's been wildly creative."
Other Little Mermaid cast members include Awkwafina in the role of Scuttle, Jacob Tremblay in the role of Flounder, Daveed Diggs in the role of Sebastian, Javier Bardem in the role of King Triton, and Jonah Hauer-King in the role of Prince Eric.
Hamilton composer Lin-Manuel Miranda (who is rumored to be playing Chef "Les Poissons" Louis) as partnered with Alan Menken, the original composer of Disney's 1989 animated version, to create a few new songs for the upcoming Little Mermaid remake.
Filming wrapped last summer.
Despite experiencing a few filming and production delays, Bailey confirmed in July 2021 that filming for The Little Mermaid had officially wrapped. While celebrating the end of filming, Bailey gave a shout-out to the rest of the cast, noting she was "so grateful to have such talented people in the cast." That included Tremblay, who she said she was "so proud of" and Hauer-King, who she described as "my friend for infinite lifetimes."
"And legends like @bardemantarctic @melissamccarthy @awkwafina @daveeddiggs who are masters of their craft but are so welcoming and open to little old me," she wrote. "As well as to the rest of the beautiful cast and crew." The film is still in post-production as Disney creatives put the finishing touches on the final product.
Bailey wanted to reassure little Black girls that they can be princesses, too.
Bailey will be the first Black woman ever to play the aquatic Disney princess. Other than her, there has only been one other Black actress that has been crowned a Disney princess, and that is Anika Noni Rose as the voice of Tiana in The Princess and the Frog.
Understanding the cultural influence of her role, Bailey does not take the role lightly and celebrates the impact it will make for current and future generations of little girls to come. "I want the little girl in me and the little girls just like me who are watching to know that they're special, and that they should be a princess in every single way," Bailey told Variety. "There's no reason that they shouldn't be. That reassurance was something that I needed."
When her casting was first announced, she faced some criticism and offensive racial attacks online, including hashtags like #NotMyAriel. But while some folks continue to argue about why having a Black half-fish woman is a "problem," there's been an incredibly positive and excited online response to Bailey's casting as well.
If you want to go ahead and have a good happy-cry, check out this thread of little Black girls watching the trailer and their adorable reactions.
The part of Little Mermaid that made Bailey cry might be in the trailer.
The 22-year-old singer and actress told Entertainment Tonight there is a clip in the movie that made her shed a few tears. "It's part 2 of 'Part of Your World,' later in the film where she's on the rock," she shared with ET's Deidre Behar. "I'm just always in awe. That was the main [emotional] moment for me."
When will the live-action Little Mermaid be released?
Little Mermaid will be released in theaters on May 26, 2023. Initially, the film was expected to hit theaters in July 2021. And one thing's for sure, Bailey can't wait to be a part of your world. "I cannot wait for time to speed up so you all can watch this film because it was made with so much love," she wrote on Instagram. "Plus blood sweat and tears."
This article was originally published on