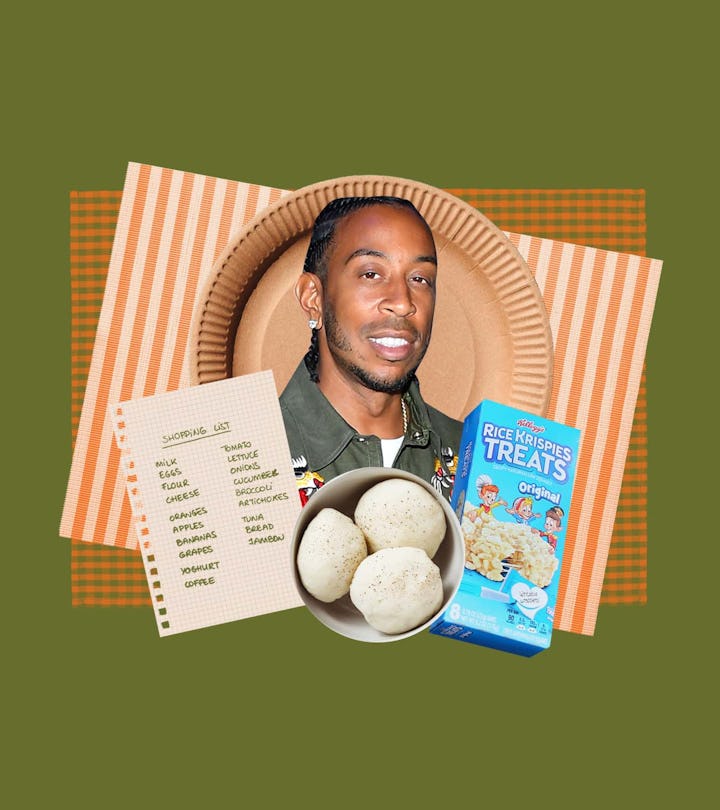 Ludacris' Kids Live For Their Mom's West African Cooking (& Happy Meals, Obvi)
Can confirm: his chick bad.
Ludacris is no stranger to noise, whether he's playing a sold-out show to fans scream-rapping "What's Your Fantasy" and "Act A Fool," or hearing cars rev and burn rubber on the Fast X set. The star has amassed countless fans around the world since his first album debuted in 1998, and in the following years, he became one of the biggest names in rap (and in millennials' music memories). He's been acting for almost as many years, though fans probably think of him most often as Tej from the Fast & Furious franchise. But to his four daughters, he's just Dad. And he loves getting them all around the dinner table, even if it's a bit noisy, in his words.
Luda (real name: Chris Bridges) and his wife, Eudoxie Bridges, definitely have a full house and vibrant home life. The Grammy- and SAG-award winning artist chatted with Romper about his kids' favorite meals, his wife's seriously impressive-sounding culinary skills, and his new collaboration with Rice Krispies.
You're a father of four. Tell me about your daughters and how many different ages you're trying to gather around a table each night.
Chance is the youngest; she'll be 2 in July. Then I have Cadence who is about to be 8 years old. And then I have Kai, who's about to be 10 in December. And lastly, I have Karma, who is 21 years old.
I have a 2-year-old too, so I know about life with a little one... and trying to get them to eat anything, let alone sit down at the table for dinner.
Yeah man, it's a lot of noise in the household, but all fun times and you want to put them in a capsule and you want to keep them at that age a lot.
As parents of four, how do you and your wife split all of the dinnertime, bathtime, and bedtime duties, especially since the kids are different ages and probably have different schedules?
We do a lot of it on our own, but we also have a little bit of help. It takes a village as they say. So my mother's involved, her mother is actually here right now. My 21-year-old, their big sister helps out. So it's one of those things where we all are helping each other out. Sometimes Daddy is on the road and doing shows, so they fill in and make sure that everything's taken care of and then when they need a break and I'm home, I'm taking over duty.
We love to hear it. What are some of your family's go-to meals when you're sitting down together, but you also are like, I need my toddler to eat today?
Oh, absolutely. My wife cooks — man, she's a great cook. She's from Gabon, Africa, so Western African influence, and literally the kids almost don't eat anything that she does not cook. With the exception of McDonald's Happy Meals and chicken fingers and things of that nature.
It's very easy because they love her food. The go-to meal, they eat fufu, she cooks a lot of great salmon and Sorrel greens. Some of it is French-inspired because she speaks fluent French and my kids also are speaking French. I'm the only one that doesn't know it, so that says a lot about how I'm a little lazy when it comes to trying to be bilingual in the household.
That's so cool. I bet they have some favorite dishes that their friends don't even know about.
Yeah, that's the thing. Fufu is one of them. They love fufu, so definitely she cooks that all the time.
So, what inspired your "Treat, Eat, Compete" snack pack with Rice Krispies? The box includes instructions for four fun snack-related games, plenty of Rice Krispies treats, and proceeds benefit The Boys & Girls Club of America. Are family games a big thing in your house?
Family games are 100% a part of my family. Rice Krispies, they approached me because they know that I'm a dad of four girls, that I'm engulfed in this father lifestyle. A lot of families don't really get a chance to spend quality time anymore. Everybody's doing different things and sometimes even eating at different times. So we wanted to take snacktime and make it fun. And that's why we have these great games that everybody will be able to come together and just play. And it's also because I have a soft spot for giving back at all times. With great power comes great responsibility and The Boys & Girls Club is dear to my heart. My father used to go to The Boys & Girls Club, and so did I. [We're] trying to promote safe places for kids and families to be able to play games.
Do any of your girls have an interest in music or acting? Are they like, "Oh God, Dad's on TV again," or do they get excited when you're on screen or coming through the speakers?
They come to set when I shoot movies, they've come to some of my concerts. They 100% want to be in the entertainment industry. They dance all the time. They're coming up with their own songs. They're practicing acting. They say they want to be put in acting, amongst other things. They do gymnastics, they do chess, they do tennis. But they definitely are saying, when I keep asking them what they want to be when they grow up, they'll say, "Daddy, I want to be an actor. I want to be a musician." So it's a lot of pressure in the household right now, let's put it that way.
What is it like being a dad to four girls? What has that experience has been like for you?
It's been good, because it shapes and changes who you are. And I think that I've just become so much more protective. I work out a lot because I'm just super protective and trying to forecast what the future brings with them, bringing different people into this household and if I'm going to approve of them or not [laughs]. But as long as they're happy, then I'm always going to be happy.
I joke and say, girls are going to take care of you when you grow older. Sons, that's like rolling the dice, it's 50/50. If you get older, I don't know if they're going to take care of you. But your girls, definitely. So I'll be well taken care of when I get old.