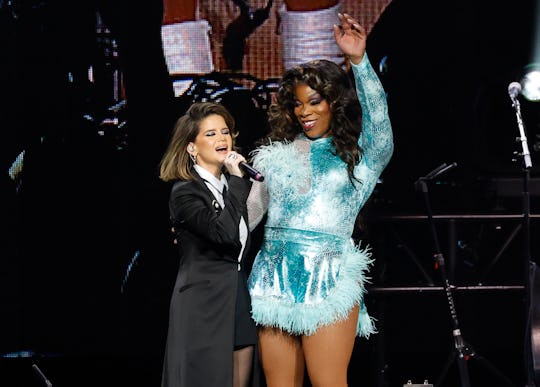 Jason Kempin/Getty Images Entertainment/Getty Images
Maren Morris Responds To Tennessee's Drag Ban By Introducing Her Toddler To Drag Queens
"Yes, I introduced my son to drag queens today. So, Tennessee, f**king arrest me!"
Maren Morris showed her support for the drag community this week at Nashville's Love Rising event created to call out Tennessee's anti-LGBTQ and anti-drag legislation. The country singer also used the empowering event to introduce her toddler son, Hayes, to some drag queens and, spoiler alert, the little boy was amazed by their "magic."
The singer and her almost 3-year-old son Hayes, who she shares with fellow country singer and husband Ryan Hurd, spent some time backstage getting to know some of the drag performers who would be taking to the stage to help raise awareness for the Tennessee Equality Project, Inclusion Tennessee, Out Memphis, and the Tennessee Pride Chamber. And according to his mom, young Hayes couldn't get enough of the drag queens.
"I brought my son here for soundcheck ... and we got to go in the room where all the queens were getting ready, doing their makeup, and he freaked out when he went in there. Because it''s just magic what drag queens do," Morris told the crowd on Monday, per A Taste of Country. "There's wigs everywhere. The smell of hairspray and wig glue. There's glitter. Everyone's in a good mood. They're so excited to be here tonight for this show. It's just a room of love."
Morris, who lives in Nashville with her son and husband, also shared some strong words for any Tennessee politicians who might not agree with that decision. "Yes, I introduced my son to drag queens today," Morris told the crowd on stage. "So, Tennessee, f**king arrest me!"
Morris is referring to new anti-drag legislation signed into law by Republican Gov. Bill Lee that restricts "adult cabaret performances in public or in the presence of children" in the state of Tennessee. This law bans such performances from happening within 1,000 feet of places like public parks, schools, or places of worship. This would effectively see the end of events like drag queen story hour, which has become popular at many libraries, pride parades, and drag brunches. If someone in the state violates the law, they could face misdemeanor charges with a fine up to $2,500 and/or up to a year in jail. Consecutive offenses could see jail time of up to six years in jail.
The proud mom was not exaggerating when she said she could be arrested, but she said on stage that she is working to make a better world for her son. "Just seeing my son meet all these lovely people here today, get to meet some queens backstage," Morris said on Monday. "He's three, and he's growing up here as a Nashvillian. And I just want to leave this world for him a little bit better than the one we're in right now. And I feel like nights like tonight help do that."