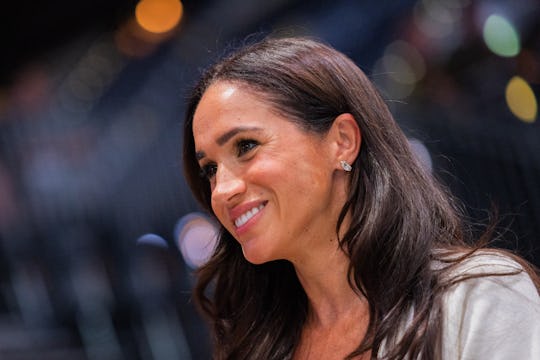 picture alliance/picture alliance/Getty Images
Meghan Markle Casually Mentioned Taking Archie & Lilibet To Get Milkshakes
"I just had to spend a little bit more time at home getting our little ones settled."
Meghan Markle has joined her husband Prince Harry in Düsseldorf, Germany at the 2023 Invictus Games, four days after he arrived to kick things off. Why was she "late to the party," you ask? Well, she was busy at home with her two kids, doing school drop-off and being a mom. Also I suspect that's the way it was planned the whole time, but we'll allow for a little insight into that sweet Sussex Montecito life anytime.
The Duchess of Sussex, who is proud mom to 4-year-old son Archie and 2-year-old daughter Lilibet "Lili" Diana, told the crowd at the Invictus Games that she was running late for a good reason. "It is so special to be here, and I'm so sorry that I was a little late for the party," Meghan said, per Hello!, "Just like so many of you, we know this is about family and friends and the community that Invictus has created, that Fischer House has created, and so I had to just spend a little bit more time at home getting our little ones settled."
She went on to explain exactly what she was doing to get her two kids settled at the couple's home in Montecito, California. The former Suits star said she was "getting milkshakes, doing school drop off and then I just landed a couple of hours ago. I am thrilled that the first event that I can do with Invictus is here with all of you."
Meghan and Harry are both very hands-on parents, dedicated to being with their kids as often as possible. And little Archie, at least, has been enjoying some extra benefits of having his mom take him to school every day. Like those aforementioned milkshakes and even car quesadillas, which he ate when Meghan was being interviewed by The Cut last year along with his half-eaten sandwich from lunch. He also learns how to give back during the school run, with his mom giving a man experiencing homelessness a black backpack to help out.
While Archie and his little sister Lili were left behind for this trip to the Invictus Games, Meghan explained in her speech that would not always be the case. "We can't wait to one day be able to bring our kids also, so they can experience just how amazing this is," she told the veterans gathered to compete in the Olympics-style tournament. Maybe they'll all get time off from the school run for that trip.