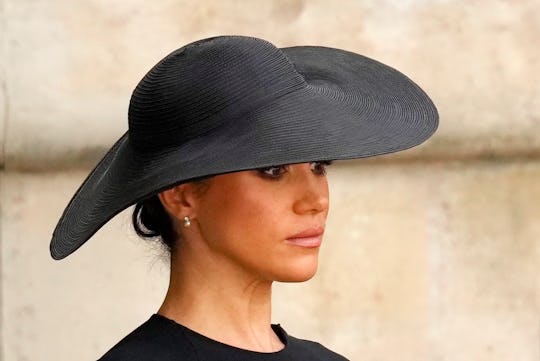 Christopher Furlong/Getty Images Entertainment/Getty Images
Meghan Markle Wore A Treasured Pair Of Earrings To Honor The Queen At Her Funeral
The Duchess of Sussex wore a present gifted to her from the Queen.
Meghan Markle paid her respects to Queen Elizabeth II at her funeral today with a meaningful gesture. She was elegantly dressed in black with special earrings that demonstrated her love for the late monarch.
The Duchess of Sussex wore a gorgeous pair of diamond and pearl stud earrings that were gifted to her by the late Queen, per Harpers Bazaar. The subtle earrings were visible as her hair was pulled back in a low bun under her black, wide-brim hat. She also wore a black cape dress with black stockings and pointed-toe pumps for the somber occasion. The only other piece of jewelry was a simple gold bracelet.
The earrings were a a smaller version of the Queen's own earrings, per People. The gift was presented after Markle's first solo outing with the Queen, where they attended a ceremony to open the new Mersey Gateway Bridge on June 14, 2018. The two seemed to have a great time together, as they were photographed laughing and talking throughout the day.
This isn't the first time Markle honored her husband Prince Harry's granny by pulling out the special earrings. She also wore the same pair to pay her respects at the Queen's funeral procession on Wednesday, Sept. 14. Kate Middleton and Queen Consort Camilla also wore pearls, which is traditionally a sign of mourning and something the Queen herself loved to wear.
At the funeral today, Princess Kate wore two pieces of jewelry that belonged to Queen Elizabeth. She wore Bahrain Pearl Drop Earrings and a four-strand pearl choker from the Queen's personal collection, per PEOPLE.
Queen Consort Camilla wore Queen Victoria's Hesse Diamond Jubilee Brooch with three sapphires, and carried a Launer clutch, which is a tribute to the Queen's iconic handbag, per Metro. She did not wear pearls for the occasion.
The Duke and Duchess of Sussex were very fond of the Queen, naming their daughter Lilibet after her. They also posted a tribute to her after her death. Markle's simple jewelry today and sophisticated look was a sweet sign of respect and love for the late monarch.