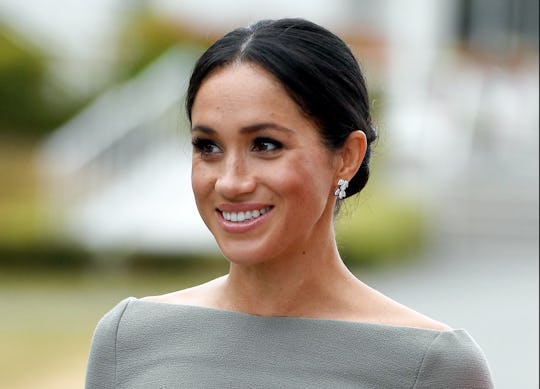 Pool/Samir Hussein/WireImage/Getty Images
Meghan Markle Shared Her Lemon Olive Oil Cake Recipe In A New Cookbook
And the lemons come from her own garden.
Long before she was Meghan, the Duchess of Sussex she was Meghan Markle, the foodie. Winning hearts all over the world and one particular royal heart specifically with her culinary skills. And now you too can pick up some of those skills since she has shared a recipe in the World Central Kitchen cookbook. A dessert no less, made with fruit from her own yard.
Meghan shared her recipe for lemon olive oil cake for the upcoming cookbook from Chef José The World Central Kitchen Cookbook: Feeding Humanity, Feeding Hope. According to a post on Archewell's website, Meghan said she was "proud to have contributed a recipe" to the cookbook, which is a "collection of stories and recipes from renowned chefs, local cooks, and friends of the global nonprofit, which feeds communities impacted by natural disasters and humanitarian crises. All author proceeds will support WCK's emergency response efforts."
This isn't the first time the duchess has presented the world with her lemon olive oil cake. In 2021, she baked the very same cake for volunteers working to provide meals to families in need in Chicago at World Central Kitchen. The cake was made with lemons from her garden in Montecito, California to make it extra special, and clearly the cake must have been a hit if it made it into the cookbook, which is available for preorder on the World Central Kitchen website.
This is, of course, not Meghan's first charity cookbook collaboration. She worked with the women of the Hubb community kitchen in 2018 to create a charity cookbook to raise funds after they lost their communal space in the Grenfell Tower fire in 2017. The book went on to become a bestseller.
As for her personal cooking, Meghan has long been praised by husband Prince Harry for her skills. Starting with their engagement story when he proposed as she was roasting a chicken back in 2017 and continuing on to her skill with his favorite food, banana bread (the secret seems to be the ginger), it seems there's nothing she can't cook. Even 3-year-old Archie loves his mom's cooking, especially her waffles, which are made for him on a waffle maker from Queen Elizabeth herself. Maybe that recipe will be in her next cookbook.