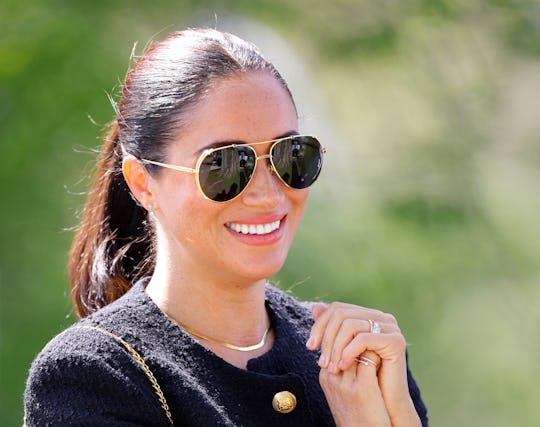 Max Mumby/Indigo/Getty Images Entertainment/Getty Images
Meghan Markle Proves Once Again She's Totally Going To Be A Snack Mom
The Duchess of Sussex sent snacks to fellow moms while they volunteered.
When life gets tough, Meghan Markle sends food. We all have our own love language, and while I don't profess to have any sort of deeply personal knowledge of the Duchess of Sussex, I would hazard a guess that food is her love language. Especially after she sent snacks to fellow moms advocating to keep families safe. This woman understands the beauty of receiving an unexpected snack on a tough day, and she always, always delivers. Quite literally.
Shannon Watts, founder of the nonpartisan grassroots movement Moms Demand Action advocating for safe firearm measures, took to Twitter on Wednesday to share a note she had received from Meghan. "Good afternoon ladies!" the note read. "To each of you and your fearless leader, Shannon, a huge thank you for the work you are doing to keep our kids, families, and communities safe. Please know that while you may feel exhausted by your endless hours of dedication to this cause, I hope you feel energized in knowing that the work you are doing is vital and so deeply appreciated."
Meghan signed the note, which was sent on personalized stationery featuring the letter M under a golden crown, "As a mom, as a friend, thank you so much!"
Watts shared that Meghan sent "donuts, bagels w/the works, coffee, cookies, etc." with the note. And just imagine how good they were because you know this mom of two has a great palate. As well as a big heart.
The duchess, who shares 3-year-old son Archie and 1-year-old daughter Lilibet with husband Prince Harry, has used nourishment as a way to express her feelings many times in the past. Last November, she sent paid leave advocates much-needed coffee to show her support for a cause very close to her heart. And in March 2021, she baked a cake made with lemons from her own garden for volunteers in Chicago's World Central Kitchen. While she was pregnant, no less.
Even within her own family, Meghan has shown her love with food. She reportedly makes Prince Harry's favorite banana bread that was so delicious she even whipped up a version during her royal visit to Australia in 2018. And of course, we all know that she makes waffles for little Archie in a waffle maker given to him by Queen Elizabeth, according to Prince Harry.
Feeding the people you love. That's basically the best love language.