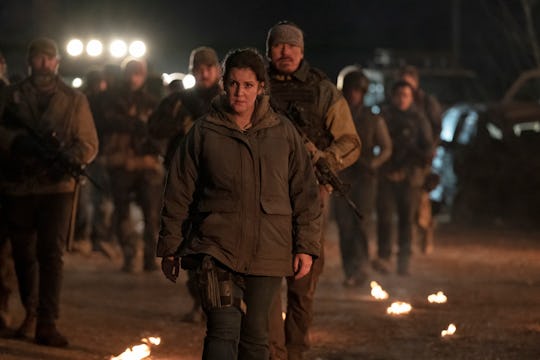 Liane Hentscher/HBO
Melanie Lynskey's Husband Jason Ritter Had Cameo In The Last Of Us
And it was a role that fulfilled a "lifelong dream" of his.
Those clickers will really surprise ya. HBO's hit post-apocalyptic drama series The Last of Us had an incredible cast of big name actors like the internet's daddy Pedro Pascal, Bella Ramsey, Nick Offerman, Murray Bartlett, Melanie Lynskey, and apparently even the Yellowjackets star's husband Jason Ritter — and you definitely missed his cameo. During a recent interview on The Tonight Show Starring Jimmy Fallon, Lynskey just revealed that her husband was disguised an infected clicker and it was a role that fulfilled a "lifelong dream" of his.
Note: Spoilers for The Last of Us Season 1 are ahead.
In a few episodes of The Last of Us, Lynskey played Kathleen Coghlan, the leader of the Kansas City rebels who Lynskey accurately described as "a horrible person" while chatting with Jimmy Fallon. But during Episode 5 of the series, "Endure and Survive," Kathleen ultimately meets her demise after a horde of infected emerge from the underground tunnels. But not before she fought off her husband's character with a few shots first.
"He was a stunt person," Lynskey told Fallon. "He trained with the stunt people, and he just did all these amazing stunts. It's like his lifelong dream. He got put in makeup and came out of the ground and was falling over and doing all these [stunts]."
"I shot him once. Yeah. Why not?" Lynskey laughed.
Lynskey also shared a behind-the-scenes photo of her and Ritter in costume, which she jokingly described as "so romantic."
With all his training and experience, could Ritter make another cameo in The Last of Us Season 2? Hard to say right now, but it's probably safe to assume Ritter would return as a clicker if given the chance. Earlier this week, Ritter commented on a behind-the-scenes photo a fan posted of him in costume and said on Twitter that it was "just the best day."
Lynskey's character as Kathleen, of course, won't return in Season 2. But could she also make a cameo as an infected zombie? We shall see, but Ritter could definitely share some stunt tips.
Whether she's become an infected zombie or even turned to murder and cannibalism in Yellowjackets, Lynskey's daughter just wants to cuddle. In a tweet last year, Lynskey shared an adorable compliment she got from her 4-year-old: "You feel beautiful, and squishy! You don't even have bones. I want to cuddle you all day"