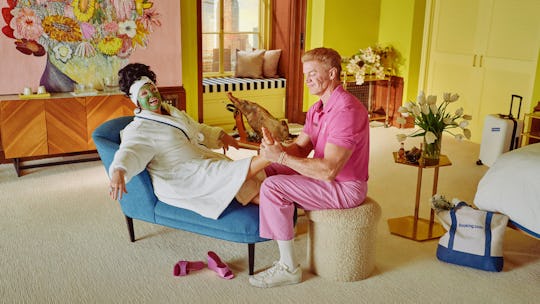 Jan Opdekamp/ Booking.com
Melissa McCarthy Stars In A Hilarious Super Bowl Ad That Will Resonate With All Moms
"As long as they have child care."
Super Bowl commercials are, of course, as big a deal as the actual Super Bowl itself. Even people who aren't big into sports tend to tune in to see what these highly priced ads will look like and who might be starring in them. This year, Melissa McCarthy came out swinging (and singing) in a Super Bowl ad for Booking.com that should speak to moms everywhere. Plus her husband Ben Falcone has a very on-brand cameo in the ad that speaks to their perfect connection.
The mom of two has been teasing little tidbits from her new commercial on her social media platform, and honestly just those sneak peeks were enough to make a mom wistful for a getaway. Think pedicures, skiing, laying by the pool... really any kind of holiday.
Which is exactly what McCarthy is singing about in her new Super Bowl ad. Wearing multiple costumes and more than one fabulous wig, McCarthy belts out a catchy song for Booking.com called "Somewhere, Anywhere" all about how she wanted to go pretty much anywhere. "A beach house, a treehouse, honestly? I don't care."
Husband and frequent collaborator Ben Falcone showed up when she sang about visiting "a hotel with a sexy gardener" as he chimed in with "landscape architect!"
She would be happy to hit up a "tiny house with aggressive flair" even, really anywhere. "As long as they have child care," before noting, "Mama deserves a vacation." Which, I think we can all agree, is the most important point.
McCarthy said in a press release she was excited to partner with Booking.com because of her own happy memories traveling with her family, including 15-year-old daughter Vivienne and 12-year-old daughter Georgette. "Every time my family travels, we come back as a little bit better versions of ourselves and we're immediately inspired to start daydreaming about our next trip. I'm tickled pink to be working with Booking.com as their #1 travel fan."
And of course, her vocal performance is a precursor for things to come. McCarthy is playing Ursula the Sea Witch in the new live-action version of The Little Mermaid, and she told Kelly Clarkson that she went to singing class to prepare to perform "Poor Unfortunate Souls" for the film.
Obviously those singing classes paid off because I'll be singing "Somewhere, Anywhere" all day.