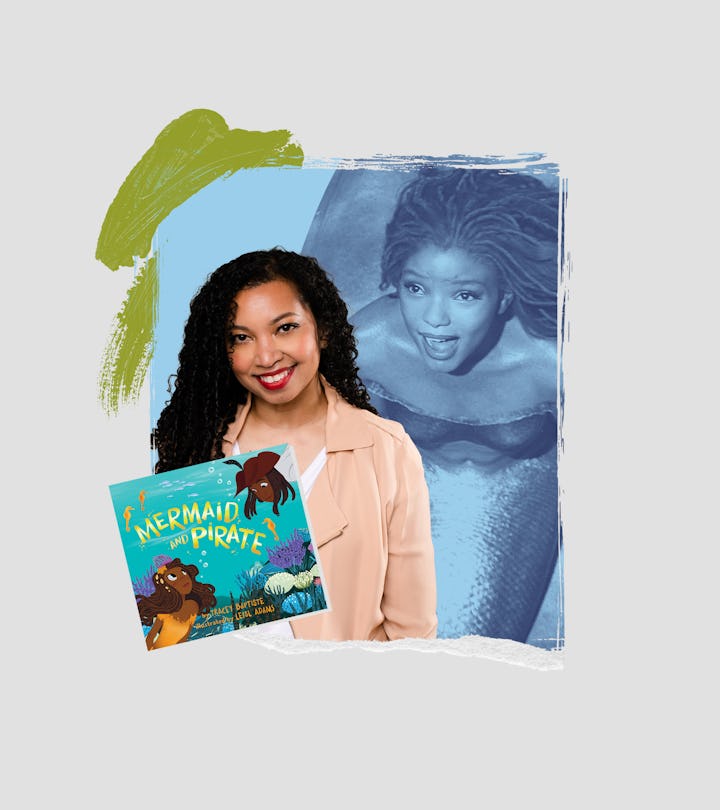 A New Children's Book Celebrates The Legacy Of Black Mermaids
Author Tracey Baptiste is changing the narrative of Black fantasy characters.
The Little Mermaid live action movie starring Halle Bailey is soon to be released and in my pocket of the universe, there is full excitement about seeing a Black actor play the beloved role. Any Black mama will tell you that this is a big deal for our little ones — and we may or may not be eagerly awaiting this movie for ourselves, too (just a little bit). The racists, though, are in an uproar. The folks who think that I'm wrong when I say Black people belong everywhere are horrified. But they're actually forgetting one major thing about mermaids that is making them look even more ignorant than they normally do. Mermaids have always been Black! And a new children's book, Mermaid and Pirate, by bestselling author Tracey Baptiste, is here to remind us all of that.
Baptiste's book, out April 4, is a simple but poignant story about two friends who don't speak the same language but clearly understand each other. Taking place in the ocean, the book is uncomplicated in its approach to friendship and what brings people together while eloquently bringing to light the power and beauty of differences. Baptiste shows little kids what it means to be a good friend, even in the face of potentially threatening situations. Packing so much into this kids book is no easy feat, and the delightfully bold and brilliantly colored illustrations by Leisl Adams bring the story to life in just the perfect way.
The idea that an undersea, mythological creature can only be a certain race that exists only above ground is ridiculous.
Baptiste, an award-winning author of books like Minecraft: The Crash and the beloved middle-grade Jumbies series, wrote the viral New York Times op-ed Mermaids Have Always Been Black, which played a role in this new book. "As a young child growing up in Trinidad and Tobago within sight and walking distance of the Caribbean Sea, I was gripped by the intrigue of mermaids," Baptise wrote in 2019. "I was introduced to one version of a mermaid by Hans Christian Andersen, whose tale of a magical girl creature, an impossible location and an outrageous desire was thrilling. But I already knew mermaids. We spent most weekends on the beach. There were plenty about. Every cousin, aunt and uncle who threw me in the waves and laugh-shouted at me to swim back to shore seemed to know that we were all part of the sea."
For Mermaid and Pirate, Baptiste drew inspiration from those childhood days frolicking by the beach. "The sea as a landscape was very large in my life, as large as the actual land itself. And seeing people in the ocean was as regular to me as seeing people walking around. So the idea of sea creatures, mermaids, and so forth did not feel that far from reality at all to me," Baptiste tells Romper. She credits her father, a real-life Poseidon, as being her main protector and teacher of the way of the water. "My dad was somebody who was just an excellent, excellent swimmer, and would just go so far out to sea, just swimming so far out, and then coming back."
And yes, Baptiste's mermaid and the pirate both happen to be Black — something she says is both a big deal and just a regular part of life.
"The idea that an undersea, mythological creature can only be a certain race that exists only above ground is ridiculous and also erases the basic facts that there is seawater all over the planet, and that seawater sometimes touches on lands that belong to nonwhite people," Baptiste explains.
She's not surprised, however, that some people are having such a hard time with the idea of a Black Ariel. "The center of education tends to be European and American, and it tends to be white. And because that is where we have centered education, it means that a lot of people are uneducated about what else exists out there," she says. "[Many people] are completely unfamiliar with the idea of nonwhite people existing in all spaces … and it really stumps their imagination. The lack of that more expansive kind of knowledge means that their imaginations have not been allowed to expand and grow, which is really unfortunate for them, because they cannot conceive of a Black person playing a fantasy role."
The likelihood of a mermaid being Black is just as high as the likelihood of a mermaid being of any other racial background. The shock and anger about a Black mermaid isn't really about a mermaid at all, of course, but, rather, insidiously rooted in the denial of Black people's right to existence. It's the refusal to accept our right to take up space and to be. In the face of this, it's even more important that we teach our Black kids to do exactly this. "My books are for everyone, but they are very particularly for children of color," says Baptise. "[My books are here to] say that you are here and you are doing these amazing things, and here is somebody who is like you, who is doing these amazing things." She hopes that kids reading her books might eventually think about who they are, and what their own place in the world can be.
Baptiste's book is a simple but poignant story about two friends who don't speak the same language but clearly understand each other.Workman
"My books are for everyone, but they are very, particularly for children of color," says author Tracey Baptiste.
Many books based in fantasy have threads of racism woven throughout, especially in their portrayals of Black people — something Baptiste tries to rectify in her work. "Traditionally, in fantasy, if a creature has been Black or brown, it has been bad, or evil, or something like that. That is generally how stories go, how fairy tales go, how mythologies go, that if it is Black, or it is brown, or it is a darker tone, it's bad or it's evil," Baptiste says. "And that is something that I am very consciously working to upend."
From a little girl from San Fernando, Trinidad, to an author and writing professor in the United States, Baptiste traces her passion for writing back to the Caribbean. She lists Grimms' Fairy Tales and Escape to Last Man Peak, written by Jamaican author Jean D'Costa, among her favorite books as a child. These books, she says, inspired her sense of adventure.
And now, she's inspiring kids everywhere to see themselves as the centers of their own adventures. Baptiste hopes her latest story shows the way that "two disparate groups of people who don't share a language" can find a way to come together and not only communicate, but also "find a friendship, a loving friendship."
Mermaid and Pirate is available anywhere you buy books and at your local library.
Raising Anti-Racist Kids is a monthly column written by Tabitha St. Bernard-Jacobs focused on education and actionable steps for parents who are committed to raising anti-racist children and cultivating homes rooted in liberation for Black people. To reach Tabitha, email hello@romper.com or follow her on Instagram.