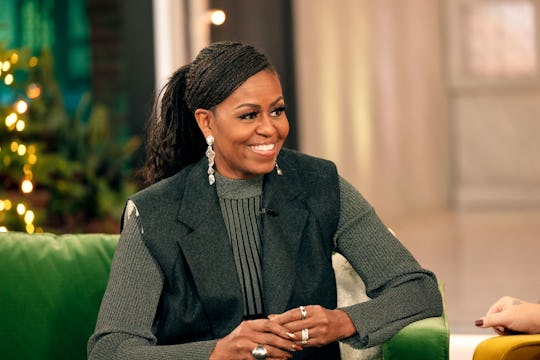 NBC/NBCUniversal/Getty Images
Michelle Obama Is Every Excited Mom When Her Daughters Come Home To Visit
Sasha and Malia can take full responsibility for their mom's "glow."
When Michelle Obama's adult daughters come home for a visit, the former first lady does not take it for granted. She knows that kids get older and find their own lives without their parents, it's totally normal. Just like it's normal to get a good "glow" on when those same adult children return for a visit. Returning children are basically the same as visiting dignitaries, and Michelle Obama knows how to roll out the red carpet for her two daughters to keep them coming back.
Obama chatted with TODAY's Hoda Kotb on her new podcast The Light recently about her time in the White House, her husband, and of course her two daughters, 24-year-old Malia and 21-year-old Sasha. One of whom was in the audience when Kotb and Obama were recording the podcast in Philadelphia. "We should point out one of your beautiful daughters is here with us," Kotb noted, although she did not say which of Obama's daughters was present. The proud mom was quick to brag that she "got one."
"That's part of my glow right now," she told Kotb. "When your children leave and they come back, oh, it's just like, you're here. You're here. So I have one of them with me." Certainly her daughter's attendance at an event to ostensibly support her does feel like a massive parenting win, particularly as both of the Obama daughters are currently out on their own living their lives. So it was a choice.
The Obama daughters have remained close to their parents since moving out to go to college and now, living together in Los Angeles. Malia and Sasha apparently invited their parents over for cocktails and appetizers, which feels like a super big win for parents with adult children. "They had invited us over before dinner to have cocktails at their apartment and they had prepared a charcuterie tray and tried to make two very weak martinis," Obama told Robin Roberts in a November interview on ABC's Good Morning America. "They realized they didn't have any of the ingredients. But they were trying to, they were hosting us. And it's just fun, watching them become themselves."
The Becoming author has admitted that both she and husband Barack Obama tend to do "crazy parent text check in" on a regular basis, because "that's the kind of thing you do as a parent."
And if you have really nice adult kids, they let it go. And show up for you. And this is why you glow.