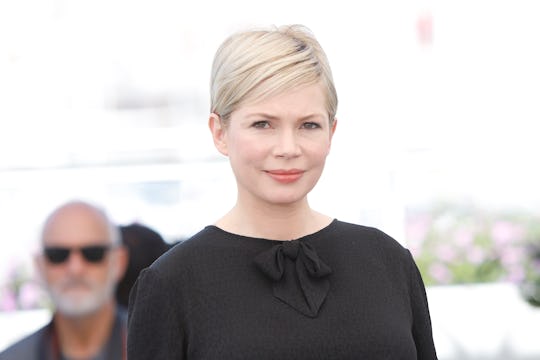 Laurent KOFFEL/Gamma-Rapho/Getty Images
Michelle Williams Is A Proud Mom Of Three
The Tar actress has a happy little family with her husband Thomas Kail.
Michelle Williams has been a mom for nearly 18 years and she also has a baby. Sure, parents don't normally get awards for longevity in motherhood, but perhaps she deserves one. Because that's a long time to be in the thick of parenting, and she seems to be pulling it off beautifully. Here's what else you need to know about the actress' children and family.
She welcomed her first child, daughter Matilda, with Heath Ledger in 2005.
Williams was in a long-term relationship with Australian actor Heath Ledger when the couple welcomed Matilda, their only daughter together, in 2005. And right from jump, Matilda was the apple of her parents' eye. "Matilda is adorable, and beautifully observant and wise," Ledger told InTouch in December 2005 when his little girl was just 2 months old. "Michelle and I love her so much. Becoming a father exceeds all my expectations. It's the most remarkable experience I've ever had — it's marvelous." While Ledger and Williams amicably separated in 2007, they clearly continued to adore their little girl.
Sadly, mere months after the couple separated, Ledger died of an accidental overdose in 2008. Matilda was just 2 years old. In 2016, Williams opened up to Porter magazine about how wrong it was for her little girl to grow up without the father who loved her, saying, "You know, that's just something that doesn't … I mean, it just won't ever be right."
Matilda is her mom's "best audience."
Now that Matilda is a teenager, the now 17-year-old has become a big movie buff and a fan of her mom's, apparently her biggest fan. Williams told The Guardian in January when asked who her best audience was that it had to be Matilda. "I'm sure it's my daughter. She is the person I have spent my adult life with."
Williams has been married to her husband Thomas Kail since 2020.
After her marriage to musician Phil Elverum ended in 2019, Williams announced that she was dating producer Thomas Kail, who she had worked with on the 2018 limited series Fosse/Verdon. Daughter Matilda apparently played matchmaker to get the two together, per People, and sparks clearly flew. The couple had one heck of a whirlwind courtship as they started dating in April 2019 and were engaged by December of that year. They also announced that they were expecting a baby together after Kail was seen wearing a wedding band, confirming the two had married.
Her second child, son Hart, was born in 2020.
Williams welcomed her second child, son Hart, in June 2020. A difficult time to become a parent due to Covid-19 lockdown measures to be sure. But the happy mom told Variety in 2022 that her baby boy had found his own joy regardless of the situation. "The world we brought a baby into is not the world we thought we were bringing a baby into, but the baby is ignorant of that," she told the news outlet. "He experiences the unmitigated joy of discovery and the happiness of a loving home."
Her third child, baby Kail, was born in 2023.
Two years after giving birth to Hart, Williams announced in that same interview with Variety that she was pregnant with her third child in May 2022. "It's totally joyous," she told the outlet. "As the years go on, you sort of wonder what they might hold for you or not hold for you. It's exciting to discover that something you want again and again, is available one more time. That good fortune is not lost on me or my family." While neither she nor Kail have publicly announced their child's birth, Williams was photographed by the Daily Mail cradling a baby in New York City in October. It sounds as though they are a happy family of five.