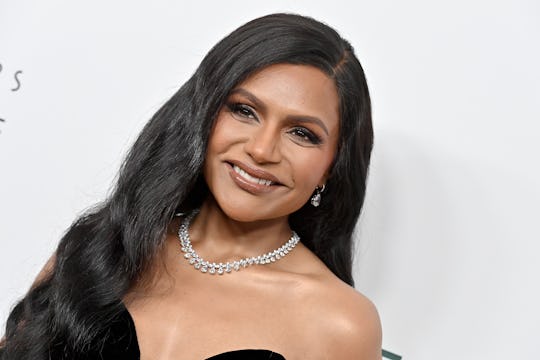 Axelle/Bauer-Griffin/FilmMagic/Getty Images
Mindy Kaling Chilled On The Sofa & Watched A Pixar Movie With Her Kids On Mother's Day
It sounds like a perfect day, to be honest.
Mother's Day looks different for everyone. Some moms favor a brunch or a spa day or a dinner out at a restaurant with the family. Some, like Mindy Kaling, favor hanging out on the couch and indulging in daytime television with their kids. There's no right or wrong way to celebrate, of course. But Kaling's version absolutely holds a certain appeal.
The Office star took to Instagram on Sunday to share a rare photo of her two kids, 5-year-old daughter Katherine "Kit" and 2-year-old son Spencer, hanging out on the sofa watching Finding Dory. As is her habit, Kaling's photo showed just the backs of her kids' heads since she has made it a policy not to share their faces on social media.
"Happy Mother's Day to those moms who try not to have their kids watch tv during the day," Kaling wrote in her post, "but then one has a sore throat, so you put on Finding Dory for her and then the little one doesn't want to be left out so you're all just watching Finding Dory at 10am. And you didn't shower yet, and may not?"
Kaling's relaxed Mother's Day plans received lots of support on social media, with Kerry Washington writing "Amen" and Kaling's former co-star from The Mindy Project Bryan Greenberg adding, "I'm not a mom but I can relate. Happy Mother's Day!"
A day of hanging out on the couch with her kids sounds amazing, but Kaling also loves to get her kids all dressed up for a special occasion. Like when she was awarded the National Medal of Arts by President Joe Biden in March and got both her kids dressed up in their finest to join her at the White House.
The Velma star has been very open about loving her life as a single mom of two, especially as she benefits from help from her nanny and her father. "I wouldn't be able to keep my full-time professional career and have two children under the age of 3 without the incredibly strong relationship I have with my nanny," Kaling told People in 2021. "Also with my dad, who comes over to the house at least twice a day to take my son out for walks and to pick up my daughter and bring her home. My village is small and I wish it was bigger."
Celebrating her happy life by taking a break and just chilling out with her kids sounds like a perfect Mother's Day for Mindy Kaling. And possibly a perfect day for most parents, to be honest.