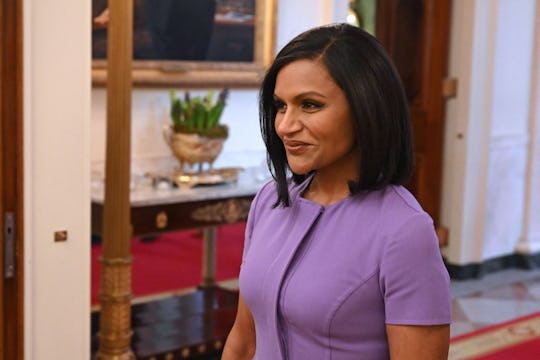 SAUL LOEB/AFP/Getty Images
Mindy Kaling Shared A Rare Photo Of Her Kids All Dressed Up At The White House
It's not every day that a person is awarded the National Medal of the Arts by the president at a special ceremony at the White House. So when Mindy Kaling was invited to the White House by President Joe Biden to receive her very own National Medal of the Arts recently, she did not take it lightly. It was such a big moment, in fact, that Kaling shared a rare photo of her children, 5-year-old daughter Katherine and 2-year-old son Spencer, all dressed up and ready to celebrate their mom.
The Mindy Project star was awarded the National Medal of the Arts by President Biden for her work in television and movies last Thursday. Kaling brought along her family members for the special occasion, she explained on Instagram, which was a good thing since she found herself getting emotional.
"To hear the President speak about my parents, their journey to the United States, my late mother's dreams for me, and the power of comedy to make people understand each other was almost too much to take in," she wrote. "It didn't feel real!"
She did take it in, of course, as did her two children, Katherine and Spencer. Kaling tends to avoid sharing photos of her kids, but for this occasion she bent her rules.
Sharing a photo of the two of them all dressed up, Katherine in a white frilly dress and Spencer in a little suit, looking out the window at the White House. Naturally she did not share their faces in the photo, as she has made a point of protecting their privacy, but clearly the event was too important for her not to include her children. Besides, Kaling's daughter Katherine (who she calls Kit) tends to treat her mother differently when they see her all dressed up for an event. "[My kids] normally think of their mom and, 'Oh the slob that writes on her computer all day,'" she told Entertainment Tonight last April. "But when I had to get ready for all of these events, [to] my daughter I was like Elsa from Frozen. I became completely transformed and she treated me completely differently. She was in awe."
We're all in awe of Mindy Kaling for everything she's achieved. Her kids might as well join the party.