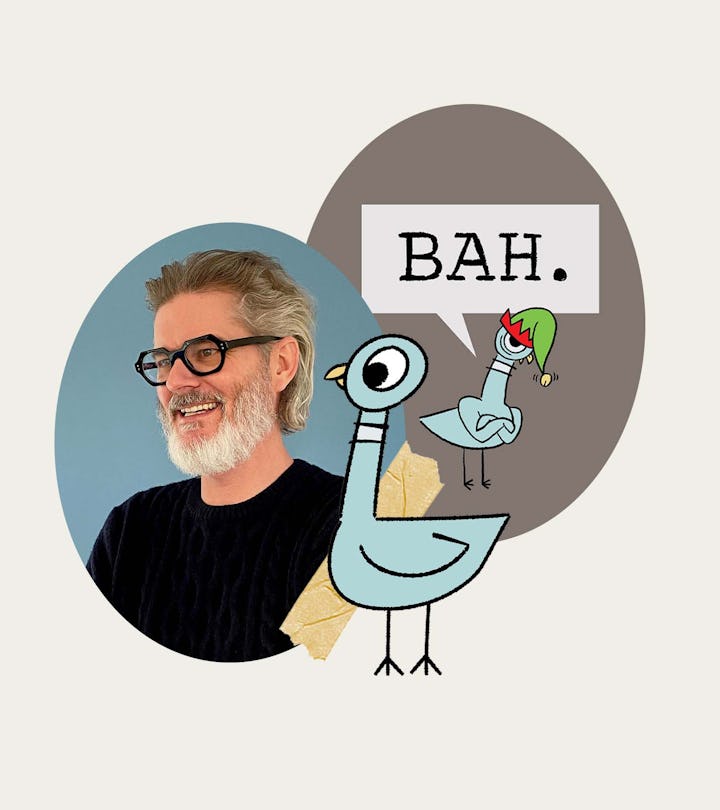 Art © Mo Willems
Mo Willems Is Releasing The Pigeon's First Holiday Book & The Cover Is Too Cute
Don't Let the Pigeon Drive the Sleigh! is coming Sept. 5, 2023!
For the past 20 years, The Pigeon (not just any pigeon, The Caldecott Honor Award-winning Pigeon created by children's author Mo Willems) has asked for a lot of things. He's asked to drive the bus, for a cookie (especially with nuts), a puppy (also a walrus), and to stay up late. Asking (but usually not receiving) is kind of his thing. And this fall, The Pigeon will be asking for something special: his first holiday wish. Don't Let the Pigeon Drive the Sleigh! is coming Sept. 5, 2023 everywhere books are sold and Romper has an exclusive first look.
Don't Let the Pigeon Drive the Sleigh! published by Union Square Kids, is Willems' ninth picture book and first-ever holiday story featuring The Pigeon. But, if you think about it the holidays represent The Pigeon in his element! The holiday season is a time to wish and receive. Who hasn't found themselves fixated on the idea of That One Perfect Present? The big ask that you start casually dropping into conversations with parents, grandparents, aunties and uncles, and in letters to Santa from Thanksgiving on? For The Pigeon, this kind of pleading and cajoling is everyday behavior... but maybe, just maybe, the holidays can bring him a happy ending.
A special sneak preview of the upcoming book — a smidgeon of Pigeon, if you will — assures us that while the story is new, it's still the same old conniving, insistent Pigeon (and thank goodness for that).
"Mo perfectly captures the season of love, laughter, stress and weird smells in this hilarious gift of a book," said Tracey Keevan, Willems' longtime editor and editorial director of Union Square Kids.
But when you're The Pigeon, there's plenty to celebrate before the holidays. Willems is celebrating two decades of this fine feathered fellow with a special re-release of the story that started it all — Don't Let the Pigeon Drive the Bus! 20th Anniversary Edition (Hyperion Books for Children/Disney Publishing Worldwide) — featuring an exclusive board game and an adult humor book, Be the Bus: The Lost and Profound Wisdom of the Pigeon (Union Square & Co.). Both will be available April 4, 2023.
We'll have to wait until the fall to learn whether The Pigeon's holiday dreams will come true (our fingers and feathers are crossed for you, buddy...), but we're hopeful this time around. "The holidays are a time for big dreams," Willems said in a statement, "and who dreams bigger than The Pigeon?"
Who indeed...?
Don't Let the Pigeon Drive the Sleigh! is set to be released on Sept. 5, 2023 and is now available for pre-order.