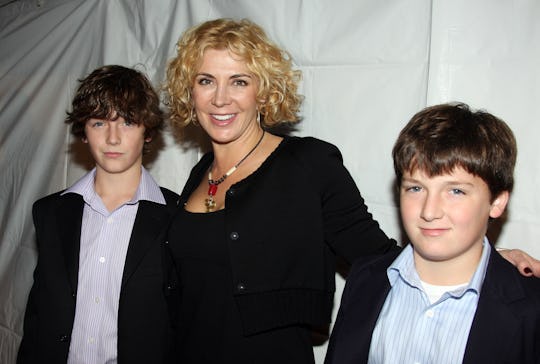 Bruce Glikas/FilmMagic/Getty Images
Natasha Richardson's Role In The Parent Trap Holds A Soft Spot In Her Son's Heart
"I see her so much as that person."
Micheál Richardson lost his mom, actress Natasha Richardson, when he was just 13 years old after she died of a brain injury suffered in a ski accident in 2009. It was a horrible time for him, as well as for his younger brother Danny and dad Liam Neeson, and of course he misses his mom to this day. When he finds himself really missing her, he turns to his favorite movie of hers — The Parent Trap. Because he found her character in the 1998 remake the most like the mom he lost.
As Natasha Richardson's oldest son, Micheál told The Times in 2020 that her death left him incredibly scarred. "It was so sudden," the actor said at the time. "When it's unexpected and it's just a complete freak accident, it really sort of messes with your mind, whether you believe in fate or not. It can send you for a bit of a head spin, and so you just latch on to the tiny little memories, whether it's her laugh or her energy in the room or her cooking. I do have her films to go back and watch her in, which I'm incredibly grateful for."
The film he returns to when he's missing her most, he told People, is The Parent Trap. Because her character Elizabeth James, playing mom to twins Hallie and Annie (both played by Lindsay Lohan), felt the closest to the mom he remembered. "Because I just see her so much as that person," he explained.
He reiterated his love for his mom in The Parent Trap in an interview with Vanity Fair, telling the magazine, "That's more or less what she was like. She was this sweet, amazing mother figure. My best friend. She had these amazing, big welcomes when we would come home or she would come home," adding that she would always call him and his brother "Darling."
Micheál isn't the only one who remembers Richardson fondly from her role in The Parent Trap. Lindsay Lohan opened up about her time with the late actress during a The Parent Trap reunion in 2021. "Natasha had such an elegance and grace, and she was so maternal to me," she shared.
While it is heartbreaking to have lost his mother, Micheál continues to keep her close in beautiful ways. By watching her films, of course, which he told People he feels "lucky" to be able to do after losing her. "I'm so lucky too, because she's passed away, I can still watch her and see how she worked and also it's a great thing to have. And I do [watch her movies], but there's still a lot there I need to watch."
But he also did something a little more permanent to honor his mom. He changed his last name to Richardson in 2019. "It was a way to honor her and her side of the family and carry on the name," he told The Times. What a beautiful tribute for a beautiful actress.