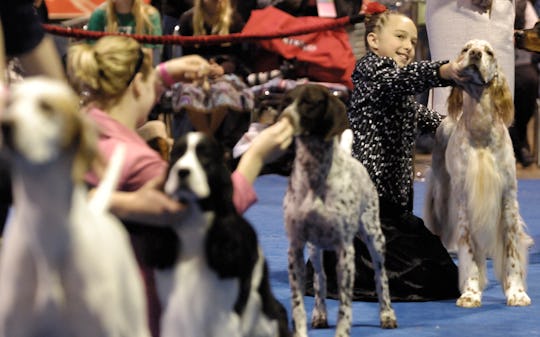 MediaNews Group/Orange County Register via Getty Images/MediaNews Group/Getty Images
The National Dog Championship Won't Air On New Year's Day (But You Can Watch It Jan. 2!)
Giving you plenty of time to sleep off the late-night festivities of New Year's Eve.
For many, there's no better way to kick off the New Year than watching dozens of very good dogs compete in the American Kennel Club's (ACK) annual flagship event. But with a surge of Covid-19 cases causing event cancellations all around the country, many folks have wondered if the AKC National Championship presented by Royal Canin will happen on New Year's Day in 2022? Here's when and where your family can catch this fun, relaxing, and entertaining event.
No, There Won't Be A Dog Show On New Year's Day
Until recently, families have been able to tune in on New Year's Day to watch thousands of purebred dogs in all shapes and sizes compete in the AKC's National Championship. Traditionally, the competition's broadcast has lasted around three hours and served as the perfect thing to watch while your family enjoys a slow afternoon at home after ringing in the New Year the night before.
This year, however, viewers won't find the annual dog competition anywhere on television on Jan. 1. But that's not to say the event won't air at all. It will. And not too far after New Year's Day.
But The AKC's Dog Show Will Air In 2022
Dog lovers won't have to wait too long to watch their favorite breed of dogs prance across the event's infamous red carpet. The AKC's 2021 National Championship will air on Jan. 2, 2022, on ABC beginning at 2 p.m. ET.
"It is our honor to be able to continue the tradition of this magnificent show and host top canine competitors from around the world," Dennis Sprung, Show Chairman and President and CEO of the AKC, said in a recent statement. "The athleticism displayed across our sports by these well-bred dogs is truly a sight to see, and we're thrilled to return to ABC to televise our signature event, the crowning of America's champion, for dog enthusiasts."
The previously-recorded championship can also be streamed on-demand via the AKC's website. Those without access to ABC may be able to catch the event as it airs on Hulu Live TV, YouTube TV, or on fuboTV. All you will need is a subscription to any of those services.
Don't Miss The Royal Canin Puppy Pre-Show
Before you watch more than 5,000 adult dogs compete for various titles, celebrate the wonder and adorableness of puppies with the third-annual Royal Canin Puppy Pre-Show, which will be broadcast on the Royal Canin Facebook and Instagram pages at 12 p.m. ET on Jan. 2, 2022.
The 20-minute pre-show will see five puppies compete in a series of fun and whimsical events designed to test their "puppy-ness." Pups will be judged across a number of categories, including puppy playtime, agility, and the magnificent mile-ish. This year's competing puppies include Apple, a Golden Retriever; Berkeley, a Smooth Fox Terrier; Juice, a German Shepherd; Donatella, a Yorkshire Terrier; and Dina Darling, a Cavalier King Charles Spaniel. The Puppy Pre-Show winner will be announced during the AKC National Championship.
You'll also be able to catch a special broadcast of the Royal Canin Puppy Pre-Show, featuring the winner, on the Royal Canin YouTube channel beginning Jan. 3, 2022.
The 2021 AKC National Championship was held in mid-December at the Orange County Convention Center in Orlando, Florida. Due to the ongoing Covid-19 pandemic, spectator seating was limited and face masks were required. More than $150,000 in prize money was awarded this year, with The Best in Show winner receiving $50,000.
But as to which dog was named Best in Show, you'll have to tune in to ABC on Sunday, Jan. 2 to find out who takes home the big prize.
This article was originally published on