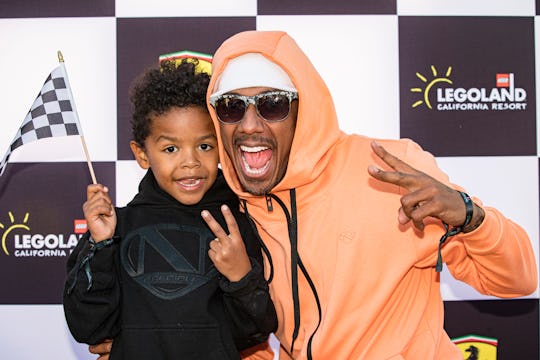 Daniel Knighton/Getty Images Entertainment/Getty Images
Nick Cannon Is A Proud Dad Of 12!
Here's everything you need to know about the actor's growing family!
Nick Cannon is an actor, comedian, producer, talk show host, and rapper. But his most rewarding role so far has been as a father. The 42-year-old is currently a proud dad of 12; 11-year-old twins Monroe and Moroccan with ex-wife Mariah Carey; Golden, 5, Powerful, 18 months, and Rise, 1 month with Brittany Bell; another pair of twins Zion Mixolydian and Zillion Heir and the newest edition to the Cannon clan, the 12th child, Zeppelin with Abby De La Rosa.
Cannon is also dad to son Legendary Love with model Bre Tiesi and late son, Zen with Alyssa Scott — who tragically passed away in December 2021 after being diagnosed with brain cancer. Also this year, he welcome, Onyx with Lanisha Cole, his 11th child.
Still with us?
Needless to say, he surely has his hands full these days when it comes to fatherhood from child support to birthday parties, but it sounds like he wouldn't have it any other way.
"I'm so excited about all my kids," he told People in May 2022. "Constantly, from every aspect of it. From them getting citizen of the month awards in the first grade to the birth of the new ones. Every day I just wake up excited as a father."
Let's take a look at all of his kids, from the oldest to the youngest and we will try to keep them in order for you.
Moroccan & Monroe Cannon (mother Mariah Carey)
Moroccan and Monroe are Cannon's firstborns, with ex-wife, Mariah Carey, 53. Cannon and Carey tied the knot in 2008, separated in 2014, and officially divorced in 2016. Although their relationship is over, Cannon said that his superstar ex is still one of his favorite people, and the two remain friends and devoted co-parents to their children. "We're doing whatever we can to make sure their upbringing is as healthy as can possibly be and that we're as healthy as we can possibly be," Cannon told Variety in a June 2020 interview about their split and current co-parenting. "And that's where we are to this day."
Fun fact: Monroe's name was inspired by the iconic actress Marilyn Monroe and she goes by the nickname "Roe." Moroccan was named after the Moroccan-inspired decor in Carey's New York City apartment.
Golden "Sagon" Cannon (mother Brittany Bell)
Golden Cannon is the first child of Cannon and Bell. The couple welcomed Golden in 2017 and just celebrated his fifth birthday with a Black Panther-themed party back in February of this year.
Also, another milestone was commemorated, his first day of school! Back in August, Golden had his first day of second grade, at only five-years-old!
"Yesterday was the first day of 2ND GRADE for MR. GOLDEN CANNON!! (And he's only 5 years old!!!)," he wrote in an Aug. 30 Instagram post. He went on to credit his son's brains to his mama! "Congratulations Champ!!," he added. "I can't take none of the credit though! He gets his genius from his Mamma! @missbbell."
Powerful Queen Cannon (mother Brittany Bell)
Powerful Queen Cannon, who turns 2 this winter, was a special Christmas delivery. Cannon and Bell announced her birth in December 2020. Ahead of Powerful Queen's birth, Bell shared photos from a beautiful, underwater maternity shoot featuring her and Cannon on her Instagram. "I usually would keep these to myself but it was so unique, dreamy, and Powerful that I can't help but share," she captioned the photos. "One day our little girl (I still can't believe I'm saying girl!!) will look at these and know it was for her."
Cannon calls his daughter a genius. In a video shared on Instagram in December 2021, Cannon praised his daughter as she read the words off of flashcards. "Look at this brilliant baby!! They got mad when we named her POWERFUL QUEEN! Y'all lucky I didn't go with my other choice GENIUS EMPRESS!
His daughter also likes to snap pictures of herself and dad, as Cannon captioned in a few images taken by the tot in an April 2022 Instagram post. And in September, Cannon shared the 'scary journey' of his daughter getting her cast cut off after an accident, which was not detailed. But he said she definitely lived up to her name. "This little girl is so brave and strong!" Nick captioned his Sept. 27 Instagram post. "Finally getting her cast cut off after truly living up to her name as a Powerful Queen Super Hero!"
Rise Messiah Cannon (mother Brittany Bell)
In October, the pair welcomed their son, Rise. Cannon shared a video of their blessing ceremony and called Bell the "rock and foundation" of his fatherhood journey.
"She has taught me so much about parenting, psychology, spirituality, love and just life in general," he captioned the lengthy Sept.30 Instagram post. "For our third child she told me she didn't want a baby shower and needed NOTHING! All she desired was PRAYER from her authentic Loved Ones! I am learning that is the best GIFT! She introduced me to the concept of a BlessingWay!"
He wrapped up the post, adding that Bell's delivery was "probably the most difficult labor and delivery" he ever witnessed! "48 hours of excruciating pain and life-risking danger to welcome 10 pounds of Love and joy."
With the addition of Rise, his family with Bell includes a trio of little ones. The entire family dressed up as the Encanto characters for Halloween.
Zen Cannon (mother Alyssa Scott)
Born in June 2021, Zen is Cannon's late son with Alyssa Scott who passed away in December 2021 from a brain tumor. Cannon openly spoke about his son's passing on the Nick Cannon Show that same month. "I know so many people out there have experienced the kind of pain and grief that I'm experiencing right now we all know it," he told his audience. "This is that time so you never know what somebody's going through. Hug your people, hug your family, kiss somebody, tell them you love them."
Cannon told People that Monroe was major support while he was grieving. "My daughter, really, she's so in tune and in line and wise beyond her years," he said. "I got a lot of therapists, but she's probably my best therapist."
This past June, Cannon and Scott celebrated their son's memory on what would've been his first birthday by announcing their foundation named after him called Zen's Light, which has a mission "to foster global excellence in hope, grief-care, and pediatric healthcare for families and children in need." Next year, Cannon said he is planning to host a gala that will aid in helping "find a cure for pediatric cancer, further research, and help console more families during difficult times."
Scott also has a daughter from a previous relationship.
Zion Mixolydian & Zillion Heir (mother Abby De La Rosa)
Cannon and De La Rosa welcomed their now 1-year-old twin boys in June 2021. For their first birthday, the two took the kids to Disneyland, where they had a photo op with Mickey Mouse. "I was told on my 1st birthday I got so excited that I peed all over my birthday cake and I guess the Apple doesn't fall far from the tree because soon as Zion saw Mickey Mouse he just let loose all over me," he captioned the moment. "It's actually happening in this photo!! Piss everywhere! LOL"
Cannon and De La Rosa had dated on and off over the years. When Cannon announced that he and Bell were expecting again, De La Rosa posted an Instagram Story, writing, "Move over Kardashians, Gen 'C' taking over babyyyy."
Zeppelin Cannon (mother Abby De La Rosa)
On Nov. 11, Cannon and De La Rosa welcomed their daughter Zeppelin into the world, who dad has already nicknamed "Bizzy B."
"Get ready because the world is yours! Daddy loves you!!," he captioned the photo of him and De La Rosa holding the newborn.
And as usual, he pays a sweet, touching homage to the mother.
"You make it ALL look so easy and effortless but I am forever indebted to your tireless work of constant dedication, diligent effort and selfless love that you give to our children and myself," Cannon wrote to De La Rosa. "Beautiful is privileged to have such a Loving and Spiritually inclined Mother. Your resilience and strength doesn't go unnoticed. Watching you smile through the world's madness and my constant craziness is so impressive. Not a day goes by that I am not filled with gratitude for all your care, words of affirmation, kindness and inspiration."
The deejay and social media influencer recently spoke about her open relationship with Cannon on the Lovers and Friends podcast. She said he's spread "pretty thin" but considers herself his "primary partner" and that he "does his best to be a present co-parent, a present parent, a present father."
"I'm excited for my kids to grow up and be like, 'Mom and dad, y'all did it your way and I love that,'" she said on the podcast. "And I hope my kids can eventually do it their way, whatever that may be in whatever capacity that is."
Legendary Love (mother Bri Tiesi)
Legendary Love joined the Cannon clan in July 2022 with Bri Tiesi. "Y'all gonna need a wide screen for this name!!! So grateful to God The Most High Elohim YAWEH for a Healthy, Happy and Harmonious Spirit having a Human Experience!!," he captioned his Instagram post introducing his newborn son to the world. "aka L.L. COOL CANNONaka L.L.C.aka YOUNG LE-LOaka BROTHER LOVE."
Onyx Cannon (mother LaNisha Cole)
On Sept. 14, Cannon welcomed his daughter Onyx Ice Cole Cannon with photographer LaNisha Cole. This is Cole's first child with Cannon.
"Introducing ONYX ICE COLE CANNON," he wrote in a lengthy Instagram post. "Once again Today I am in Awe of the Devine Feminine! God has given me and @MissLanishaCole the privilege of hosting an Angel here on earth. I vow to protect, provide, guide and love this child to the best of my abilities."
Cannon called Cole "one of the most guileless, peaceful and nonconfrontational kind souls" he's ever witnessed and "only deserves to revel in this moment of blissful joy of motherhood."
It's clear that being a dad brings Cannon a lot of pride, joy, and purpose. In a 2016 interview with ABC, the actor said fatherhood is what he was "put on this Earth to do." "We're here to be fruitful and multiply," he told the outlet. "That's what our beings are made for, so we can raise our offspring up so they can have offspring, and [have] generations after generations."
This article was originally published on