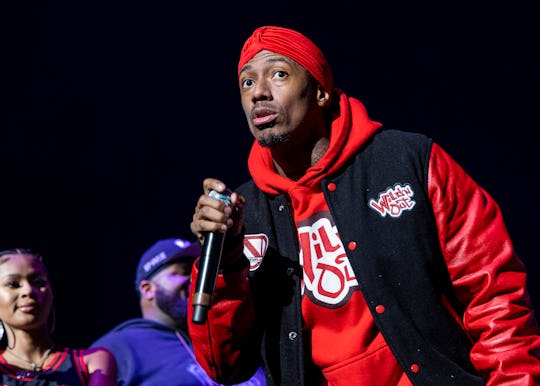 Scott Legato/Getty Images Entertainment/Getty Images
Nick Cannon Says He Mixed Up His Mother's Day Cards For The 6 Moms Of His 12 Kids
He wanted to send "handwritten messages from the heart."
Nick Cannon needed to thank a lot of moms on Mother's Day. Especially the six moms who birthed his 12 children. While he says he had the best of intentions, he managed to mix up of his Mother's Day cards and sent a few of them to the wrong moms. But don't worry, he's already let himself off the hook by pointing out that he "tried his best."
The television personality shared his Mother's Day adventures on Monday's episode of his podcast The Daily Cannon, explaining that he had intended to give each of his "baby mamas" a handwritten note. "I tried my best, I really did," Cannon, 42, explained. "But I thought it would be really, really good to — you know, I could buy, whatever you know — to show people how you really feel, write it down."
Cannon went on to share that he was "doing handwritten messages from the heart" when he got "the cards mixed up. And then so when one baby mama reads the card about how I feel about the other baby mama …"
The dad of 12 has a solution to keep from doing this again. "See if I would just got some generic sh*t that everybody else got, that wouldn't have happened."
Cannon did not specify which of his "baby mamas" were given the wrong card, and coincidentally one of the mothers was in the room co-hosting the podcast with him, Abby De La Rosa, with whom he shares 19-month-old twin boys Zion and Zillion as well as 3-month-old daughter Beautiful Zeppelin. Cannon is also dad to 12-year-old twins Moroccan and Monroe with ex-wife Mariah Carey. He then shares sons Rise Messiah, 4 months, and Golden Sagon, 6, as well as 2-year-old daughter Beautiful Queen with Brittany Bell. Cannon also has 7-month-old son Legendary Love with Selling Sunset's Bre Tiesi and a 4-month-old daughter named Onyx Ice with former Price Is Right model LaNisha Cole. Cannon also shares 8-week old daughter Halo Marie with Alyssa Scott; their son Zen sadly died of brain cancer at 5 months old.
The 42-year-old dad of 12 might have messed up on Mother's Day, but he is sure to stay on top of his child support payments. Cannon confirmed last November that he pays more than $3 million per year in child support for his 12 kids. "I definitely spend a lot more than that on my children annually," he said on The Neighborhood Talk. "I don't plan to ever have to participate in the governmental system of child."
Bringing home roughly $100 million a year, he could probably spring for some apology flowers for the moms who got the wrong Mother's Day cards.