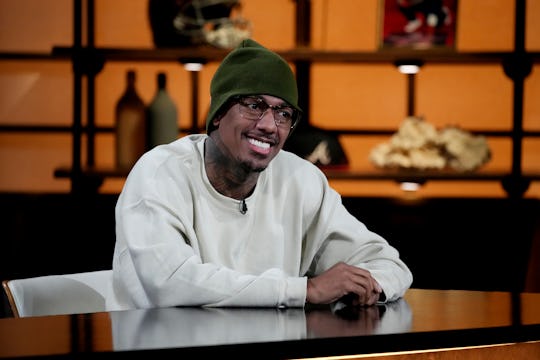 Peacock/NBCUniversal/Getty Images
Nick Cannon Gives In To Chaos In A Cute New TikTok With His Oldest Kids
"Dad never keeps up with TikToks."
Moroccan and Monroe, 11, are keeping their dad, Nick Cannon young at heart. The 42-year-old Wild 'n' Out host recently joined his pre-teen twins in a TikTok video. The trio danced to a sped-up version of Chris Brown's "Run It." Moroccan and Monroe had no problem with the choreography but their dad was another story and a bit rusty in his moves.
"Dad never keeps up with TikToks☠," he labeled the video on his TikTok page. He then added in the caption, "Making this was very chaotic."
One TikTok user commented, "being silly with your kiddo is the best feeling ever."
In another clip, he posted a 10-second blooper clip with the three of them practicing the moves, and Monroe gets butt-bumped by her dad and brother. And in another clip, Monroe and Cannon share a moment in a video titled "You Act Just Like Your Dad."
Cannon shares Moroccan and Monroe with his ex-wife, Mariah Carey. The pair are the oldest of Cannon's 12 children.
The father-daughter-son bonding moment comes weeks after Carey reportedly shared that she is seeking full custody of the twins. A source shared with RadarOnline that although Cannon is a "doting father" who tries to see the twins as much as possible, he also has nine other children that need his attention.
"The reality of the situation is that they are usually with Mariah anyway. Nick doesn't see much of them," the source said. "She wants to put him on notice that he can't just flit in and out of their lives while he attends to his other children. And she wants legal standing as the twins' primary caregiver."
In a June 2022 interview with Men's Health, Cannon says despite contrary beliefs he is a very active and engaged father with all of his kids.
"If I'm not physically in the same city with my kids, I'm talking to them before they go to school via FaceTime and stuff," he said. "And then when I am [in the same city, I'm] driving my kids to school, making sure I pick 'em up. All of those things, making sure [I'm there for] all extracurricular activities."
During CNN's broadcast of New Year's Eve Live, Andy Cohen joked that The Masked Singer host was "single-handedly repopulating the Earth" and asked about his family game plan.
"Clearly, I don't have a plan," Cannon said. "Honestly man, it's just so much joy and elation that I have, the family that I have, and I embrace it. I love it, and I don't have a plan. That should have been clear from the jump."
Nevertheless, it's nice to see whatever quality time Cannon spends with his kids, TikTok and all!