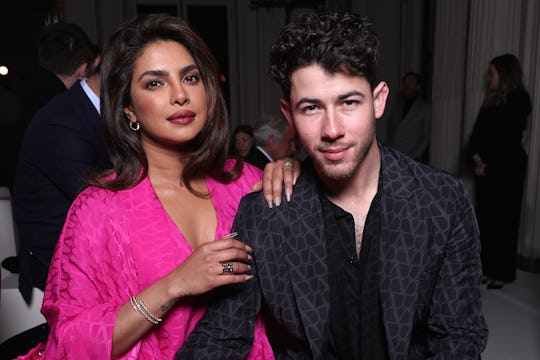 Pascal Le Segretain/Getty Images Entertainment/Getty Images
Nick Jonas Documented Himself Trying His Darnedest To Fold Up His Daughter's Ball Pit
Neatly folding a fitted sheet. Deflating an air mattress and somehow making it fit back in its little baggie. These are universal struggles we just have to deal with... or just give up and shove into a dark corner. But Nick Jonas is one determined dad. In a hilarious video, Jonas documented himself fighting for dear life as he tried to fold up his daughter Malti's ball pit.
"Okay, so, um, I'm trying to figure out how to get this, which is a ball pit my daughter was in, to fold up in this bag," Jonas says in the video as he holds up said ball pit and its tiny blue bag. "Here we go."
Jonas, who welcomed 14-month-old daughter Malti with wife Priyanka Chopra via surrogate in January 2022, gives it a couple attempts before turning to Google to search "how to fold up a ball pit."
Jonas eventually manages to fold up the ball pit and squeeze it into the bag, but then reaches another obstacle: the zipper breaks off. "No! We were so close!" he wrote over the video, shaking his hands in anger.
"Dad stuff," he captioned the clip, which was appropriately set to the Jonas Brothers' new song "Waffle House," which kicks off with the lyrics: "No, don't get stressed, it's gon' get figured out."
Parents were quick to chime into the comments section of the video. "Yes, when you give up and just shove it in the bag!" one mom commented. "The fact that I have the same problem as Nick Jonas makes me feel okay #parenthoodproblems," another wrote, while one fan admitted, "The zipper coming off would have made me cry ngl." One parent, however, put it perfectly: "you don't [put it away], you accept it, it becomes part of your furniture."
This isn't the first time Jonas has shared a glimpse into his life as a dad to Malti, who spent over 100 days in the NICU. Speaking to Variety in May 2022, Jonas said "everything is much more intense" once you become a parent. "The weight of everything is much more intense," he said. "I think it's now about trying to be as present as possible and as thoughtful as you can be for your family, but also for other people's journeys. I'm so grateful for [Malti] and the wonderful perspective of being a parent."
Nearly a year later, it's clear Jonas is present and determined as ever to be there for his daughter... ball pits be damned.