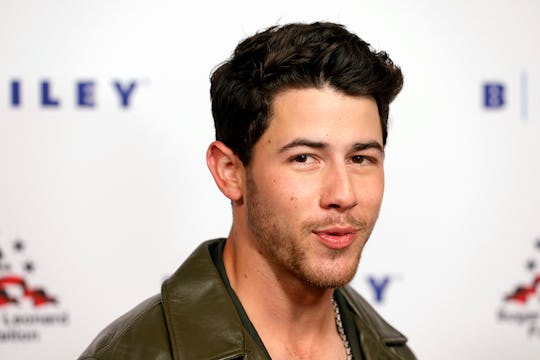 Frazer Harrison/Getty Images Entertainment/Getty Images
Nick Jonas Shared A Rare Photo With His Daughter Malti In The Cutest Matching Shoes
The new dad celebrated Father's Day in style, thanks to a gift from his wife, Priyanka Chopra.
The first time you celebrate Father's Day is a huge milestone, and Priyanka Chopra gave husband Nick Jonas the most thoughtful gift to commemorate the special day. The couple share 5-month-old Malti Marie, and while the baby is technically too little to wear shoes, that didn't stop Chopra from giving her and her dad personalized white sneakers. Yes, there is photo evidence. Malti is so little and so, so cute!
"First Father's Day with my little girl," Jonas posted on Instagram yesterday alongside a sweet father-daughter picture. Malti is front and center in the snap, facing away from the camera and wearing a red dress and matching bloomers covered in white flowers. She is sort of standing up, as Jonas holds onto her back and shoulders with both hands and lifts her. On her feet are personalized white Vans with an "M" on the heel of each foot to represent her name. She's so tiny that her feet can't quite fit in the shoes! One foot seems to be resting flat in the shoe, but the other, which is clad in a gold anklet, only barely sticks inside the top of the shoe.
The "Leave Before You Love Me" singer's legs are also in the shot, as he's standing right in front of Malti in matching shoes. One of his white Vans say's "MM's" and the other says "Dad," and it's so precious it'll make your heart ache. He may be 1/3 Jonas Brother, but at his core, he's just MM's dad.
"Thank you @priyankachopra for the incredible Father Daughter sneakers and for making me a daddy I love you so much," he added. "Happy Father's Day to all the dads and caretakers out there."
The Quantico actress also shared the photo, writing, "Happy 1st Father's Day my love. To watch you with our little girl is my greatest joy..what an amazing day to come back home… I love you.. here's to many more ❤️."
Fans commented on both pictures, with one person writing, "Congrats Nick!!! Much happiness for the whole family!!" and another writing, "Her little anklet are you kidding." "Melting ❤️❤️," wrote another, and same. The heart can't handle it!
The couple announced they welcomed their baby via surrogate in January, and posted the first picture of her on Mother's Day. Chopra also shared a picture of baby Malti for her mom's birthday on June 17.
On an interview with Jimmy Fallon on The Tonight Show in May, the Dancing With Myself judge revealed he gave Chopra a citrus tree for Mother's Day to symbolize "new life, new things growing, and the beauty of, you know, citrus trees."
It seems the duo are trying to outdo each other with the most amazing gifts and they're both winning. Malti definitely hit the parent jackpot!