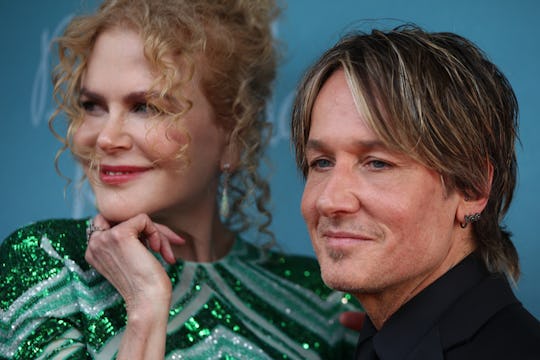 Don Arnold/WireImage/Getty Images
Nicole Kidman's Youngest Daughters Are Already Little Actresses Themselves
The mom of four may have some competition at future awards shows!
Nicole Kidman and Keith Urban really get the whole ebb and flow of being celebrity parents. They seem to enjoy getting dressed up and hitting awards shows together, as they most certainly will at this year's Academy Awards where Kidman could well bring home the Best Performance by an Actress in a Leading Role Oscar for Being The Ricardos. But then the actress and her singer husband seem to melt away from the limelight to enjoy life with their kids. Talk about the perfect balance. So how did she get here? The actress' journey to motherhood started decades ago.
She adopted two children with her ex, Tom Cruise.
After Kidman married Tom Cruise in 1989, the couple quickly learned they were expecting their first child. Kidman was just 23 years old and excited to become a mom. Sadly, she experienced a miscarriage due to an ectopic pregnancy, and it left her struggling with "massive grief," she told Yahoo! "I know the yearning. That yearning. It's a huge, aching yearning. And the loss! The loss of a miscarriage is not talked about enough. That's massive grief to certain women." She and Cruise would go on to suffer another miscarriage a decade later, not long before the end of their marriage and after they had gone through the adoption process.
Cruise and Kidman adopted two children together, Isabella and Connor, in the late '90s. Isabella was born in 1992 while Connor was born in 1995. Kidman opened up about her decision to adopt during a 2021 interview about the movie Lion, where she played an adoptive mother, saying she adopted "because I had a vision that that would be my child. I had that vision."
Her daughter Bella Kidman Cruise is an artist.
Kidman's oldest daughter Bella is now working as an artist and a married woman herself. Bella Kidman Cruise married Max Parker in 2015, in a small ceremony at the Dorchester Hotel in London that reportedly did not include either of her parents, according to The Daily Mail.
As an adult, Bella stays very much out of the limelight which can be difficult with such high-profile parents. Kidman does her best to respect that need for privacy as well as their decision to stick with their father's Church of Scientology, telling WHO Australia in 2018 that Bella and Connor "are adults. They are allowed to make their own decisions. They have made choices to be Scientologists and as a mother, it's my job to love them." 
Her son Connor is a well known DJ.
Connor, who was born in 1995, is now a grown man living in Florida and working as a DJ. According to his Instagram, he's also a big fan of deep sea fishing. While he tends to avoid discussion of his parents, much like his older sister, he did tell Woman's Day in 2014 during a visit to Australia, "I love my mum. I don't care what people say, I know that me and Mum are solid. I love her a lot. My family means everything. Yeah, I love my music, but the family comes before everything else."
Her daughter Sunday Rose was born in 2008.
In 2006, Nicole Kidman married fellow Aussie and country singer Keith Urban just one year after meeting him. The happy couple welcomed their first daughter together, Sunday Rose, in July 2008. The meaning behind Sunday's name is actually a true testament to the couple's joy at having found each other. "We went from dreading Sunday to really loving it. It was the day when nobody was going to bother you, you could stay in bed, you could do what you wanted to do. We just thought, What a great name for our baby," Kidman told Oprah Winfrey at the time, per Us Weekly.
As for Rose, that was the name of Urban's grandmother.
Their daughter Faith Margaret was born in 2010.
Two years after Sunday's arrival, Faith Margaret was born via surrogate on Dec. 28, 2010. As with older sister Sunday, Faith's name had special significance for her parents. "We needed to have that through the whole pregnancy," Kidman explained to E!. "That's what it required was a lot of faith. Her name is Faith Margaret ... People call her just Faith, but she's actually Faith Margaret, that Southern double name. Margaret is my grandmother's name. She had her last baby at 49, so she's my inspiration."
Much like their mom, Faith and Sunday are already little actresses. They both had small parts in Angry Birds 2, and starred in Big Little Lies alongside their mom as kids at school. They also had small parts in her other HBO series, The Undoing. They even had the chance to get an Emmy; from their mom. In 2018, when Kidman won two Emmys for Big Little Lies, she told Jimmy Kimmel she offered one each to her daughters and Sunday responded, "Sunday didn't want it. She said 'Oh, I want to earn my own.' I'm like, 'You go, girl!'" A girl after her mom's own heart.