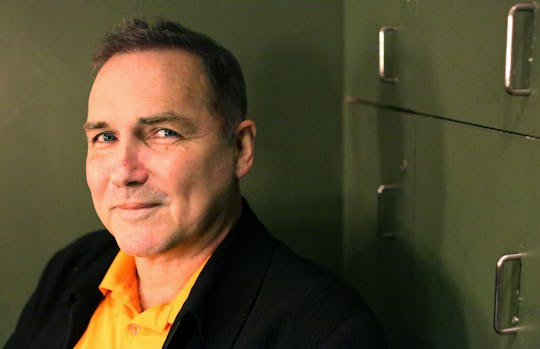 The Washington Post/The Washington Post/Getty Images
Norm Macdonald Spoke So Lovingly About His "Earnest" Mom In His Final Comedy Special
The legendary comedian, who passed away in 2021, was a proud dad to one son.
It's been almost a year since Norm Macdonald died at 61 years old in September 2021 after a 10-year battle with cancer, and yet he feels closer than ever right now. His new Netflix special Norm Macdonald: Nothing Special is a more intimate than ever version of the Saturday Night Live legend, filmed as it was by Macdonald himself in his home alone in 2020 before he was going in for a medical procedure. He recorded the special, he explained, because he "didn't want to leave anything on the table in case things went south." Sadly, a year later the world lost not only a gifted comedian but also a loving father and a man who stayed close to his mom until the very end.
Norm Macdonald had two brothers.
Macdonald grew up in Ottawa, Canada as the middle child of Ferne and Percy Macdonald, both of whom were teachers. He has an older brother Neil, who is a journalist for the CBC, and a younger brother Leslie. Sadly, the three brothers lost dad Percy to heart disease in 1990, and Macdonald, who kept his cancer a secret from friends and fans for a decade, took after his father in one compelling way. "He'd be clearly in agony," Macdonald told The New York Times about his dad's illness, "and you'd ask him, 'How's it going, Dad?' and he'd say, 'Oh, all right, I suppose.'"
Like father, like son.
He was married for 11 years.
The comedian married Connie Vaillancourt, who is reportedly a family therapist in Los Angeles, in 1988. The pair eventually separated and divorced in 1999, per The Sun, although the intensely private Macdonald didn't share the reasons behind the split.
He had one son, Dylan.
Macdonald and Vaillancourt welcomed their one and only child together, son Dylan, in 1993. Dylan Macdonald stays off social media, for the most part, and his dad rarely referred to him in his comedy sets as he was averse to what he called "confessional" comedy, according to the New York Times. He did, however, welcome his son to be interviewed by Tom Green in 2013, where father and son hung out and looked incredibly comfortable with each other. Dylan even teased his dad, asking him and Green "did you have lots of playdates?" when they revealed they grew up close to each other.
Macdonald also opened up about his son during an interview with David Letterman, talking about taking Dylan to Disney World and explaining that he gave his son the name Dylan after singer Bob Dylan. Or maybe he was kidding; you never could tell with Norm Macdonald.
His mom Ferne was his comedy pal.
There was one person in Macdonald's life who got more frequent shout outs in recent years; his mom Ferne. The father and mother duo even made a few comedy videos together in the months before he died that were funny and heartbreaking all at the same time. "I thought it would be a good idea, this year, for me and my mother to say what we're thankful for," Macdonald said in the video, wearing pajamas and sitting on the couch with his mom. Of course the pair were mostly joking around, but the affection between them was real as anything.
In Norm Macdonald: Nothing Special on Netflix, the only time the comedian gets a bit serious is when he starts to talk about his mom near the end of his recording. "I love my mother, you know. She lives right beside me here. She's great. I don't think my mother has ever spoken a word that ever had any irony in it. She's just earnest, she's happy. She knows how to love."
And so, clearly, did her son.