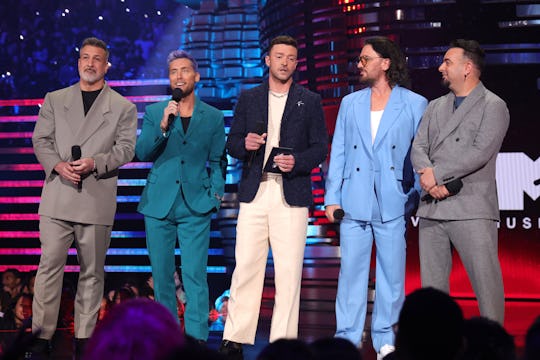 Kevin Mazur/Getty Images Entertainment/Getty Images
*NSYNC Is Releasing A New Song For The New Trolls Movie & Just The Teaser Is Catchy
It's the boy band's first new song together in over two decades!
If you were already excited about the new movie Trolls Band Together coming out, prepare to have your mind well and truly blown. Because for the first time in two decades, *NSYNC is releasing a new song for the movie. And all of this '90s nostalgia coupled with a truly adorable movie is just tearin' up my heart.
After all five members of NSYNC — Justin Timberlake, JC Chavez, Lance Bass, Joey Fatone, and Chris Kirkpatrick — showed up at the 2023 VMA Awards to give Taylor Swift the award for best pop video (and also some friendship bracelets, of course), fans were wondering if they might have an announcement coming. A reunion perhaps? A new project? Even Swift, who appears to be quite a fan of *NSYNC based on her exuberant reaction to seeing them together, took a moment away from accepting her award to ask them all, "Are you doing something? What's gonna happen now?" She then turned to the audience and said, "They're gonna do something and I need to know what it is!"
Truer words were never spoken, and just two days later, the announcement came. A new trailer for Trolls Band Together dropped along with a sneak peek at a very special song. "Better Place" by *NSYNC. The first song they've released as a group in 20 years.
The trailer for the third movie in the Trolls universe, Trolls Band Together, opens with a voiceover from someone saying "We are going to make boy band history tonight," something the five members of *NSYNC might know a little something about. The Troll band is called BroZone, and in a flashback scene from when the band initially formed, their performance didn't go their way because, as Branch (Justin Timberlake) is told as a young troll, "We are out of sync. We've gone from boys to men, and now there's only one direction for us to go, the back streets."
In the present, Branch is a guest at a wedding when his long lost brother, John Dory (Eric Andre) shows up, who was also a member of BroZone. He is there to get BroZone back together, and by the end of the video... *NSYNC is performing a snippet of their song "Better Place," which will be fully released on Sept. 29. Universal told TODAY that "Better Place" is the only song the band performed for the film, so I wouldn't get your hopes up about a full reunion. Let's all just enjoy this special little treat for what it is.
The perfect nostalgic song that really will take you to a Better Place. The '90s.
Trolls Band Together hits theaters on Nov. 17.