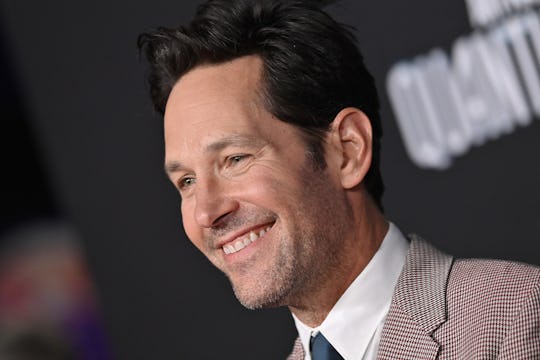 Axelle/Bauer-Griffin/FilmMagic/Getty Images
Paul Rudd's Kids Are Now Typical Teenagers Who Are Not Impressed With His Fame
"Yeah. They don't care, nor should they."
Paul Rudd has been playing Scott Lang, aka Ant-Man, for a full decade now, which is seriously impressive. Not enough to impress his kids, of course. At least not according to Rudd. That would be a stretch. But still, the rest of us are really amazed that he has been playing the role for 10 years now that he's starring in Ant-Man and the Wasp: Quantumania.
The actor hit the red carpet for the premiere of Ant-Man and the Wasp: Quantumania on Monday in Los Angeles with his wife Julie Yaeger. They did not bring their two children, 17-year-old son Jack and 13-year-old daughter Darby, along for the big event. Which was presumably just fine with them. When asked by People what his kids think about him playing Ant-Man, Rudd admitted, "I think I'm dad more than I'm Ant-Man or in the MCU (Marvel Cinematic Universe). Yeah. They don't care, nor should they."
You would think his daughter Darby would at least be a little impressed by her dad's Ant-Man portrayal, particularly since she is the inspiration behind Scott Lang's relationship with Cassie in the movies. Speaking to The Wrap, Rudd shared a conversation he had with Darby where he explained, "You know, you're the real Cassie," adding "I do little things in the movie that are little things just for her."
Fortunately Rudd didn't exactly seem heartbroken by their lack of interest in his career. In fact, he seems to take great pride in keeping his life as a dad and life as an actor completely separate and certainly prioritizes the former. "When I think about myself, I think of myself as a husband and a father, like I'm that," he told People in 2021 when he was named that year's "Sexiest Man Alive" thank you very much. "I just hang out with my family when I'm not working. That's what I kind of like the most."
No wonder his kids don't really get too jazzed about their dad's super famous role as a super big deal superhero. It sounds like he has made an effort to make sure they never need to feel impressed with his celebrity status. Or else they are simply teenagers. And we all know how teenagers.