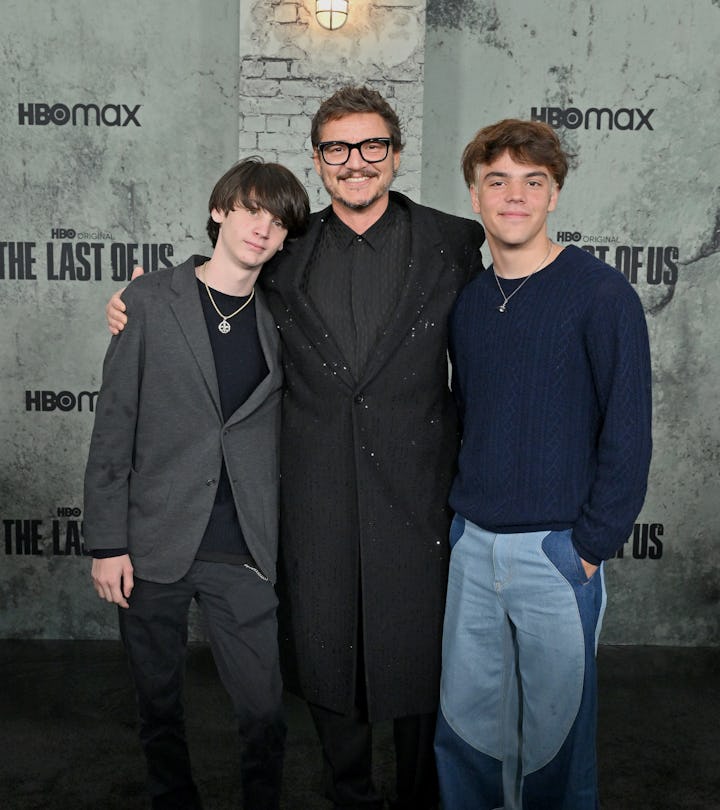 Axelle/Bauer-Griffin/FilmMagic/Getty Images
Pedro Pascal's Photos With His Nephews Are So Pure, You Can't Help But Melt A Little
Season 1 of The Last of Us may have ended, but thank Baby Yoda that the glorious media reign of Pedro Pascal continues. And why shouldn't it? The man is handsome and ridiculously charming. He is also — you may have heard... possibly from me — a total daddy. And, look, he is a daddy. Nothing any of us do will change that, but it's also become clear that he's getting a bit tired of people reminding him of that fact. (Fair. Also sorry.) So I will stop referring to him as such (in public) and start pointing out that actually though, Pedro Pascal is a hot uncle. Like... literally, but also in a broader, cosmic sense.
Pascal enjoys a close relationship with his older sister.
Javiera Balmeceda is head of local originals, Latin America at Amazon Studios. She was recently seen at the 95th Academy Awards when the studio's film, Argentina 1985 was nominated for Best International Feature. Her date? None other than Pascal, which was a delight on every level. It's not the first time Pascal has proudly pal-ed around with his big sister — his Instagram account is full of sweet messages and adorable candid snaps of the pair, from red carpets to adorable throwbacks in honor of her birthday, to family vacations. But the adorable family content doesn't end there...
Pascal has two nephews.
While Pascal has referred to himself as "uncle" in regard to other children on his IG feed, his older sister appears to be the only one of his siblings to have kids. (Of course, we also stan non-relative uncles and aunties and celebrate how important they are in our kids' lives.) It's clear he has a special connection to them. The elder, Pedro, is his namesake and the younger, Bruno, is his godson.
From silly selfies...
...to sweet selfies...
... to cute candids...
...to George Michael sing-alongs.
The content is just so pure and so adorable that we can't help but melt a little... though, to be fair, melting in Pascal's presence is, like... the default, right? (Don't even pretend I'm alone in this assessment...)
It's also adorable to see all his uncle-y shenanigans, like buying their love (we're not above this with our nieces and nephews either) to lightsaber battles (pre-Mandalorian, mind you), to foam sword battles.
Clearly this trial by combat went better than his most famous one in Game of Thrones. RIP Oberyn: you were one of our favs.
Pascal also does cool celeb uncle things with the boys.
The charm of it all (aside from the fact that Pascal could, I'm sure, read a phonebook charmingly) is just how ordinary it is. Even moments where his celebrity is apparent — like when he took the boys to Comic-Con or on the set of Hot Ones or that one New Year's Eve Party with fellow daddy/my imaginary boyfriend Oscar Isaac — it's never ostentatious or showy. It's just a guy posting pictures of his obviously beloved nephews... but also it's Pedro Pascal so inside we're all like "Oh yeah. This is a man who could bravely protect children as he escorted them through a hellscape full of zombies."
Joking aside: I don't want to have a weird, para-social relationship with any celebrity where I'm scrutinizing their every move to prove "OMG they're actually just like the characters they play!" But it's fun to be a fan and to see someone whose work (and, yes, face) you admire just finding joy and being wholesome as hell.