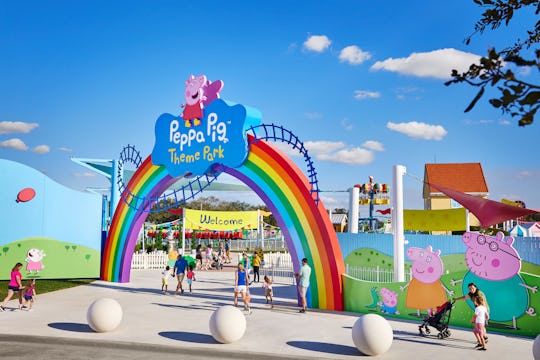 Merlin Entertainment and Hasbro
Another Peppa Pig Theme Park Is Set To Open In Texas Next Year
Pack up your rain boots because everyone's favorite sassy pig is heading to the Lone Star State. Another Peppa Pig theme park is set to open in 2024 in the Dallas-Fort Worth area with rides, attractions, shows, and more. Peppa might be British, but now she's got roots in Winter Haven, Florida, where the first Peppa Pig theme park opened in the United States in 2022. And soon enough, in Texas.
From Merlin Entertainments and Hasbro, the new standalone Peppa Pig theme park will be located in North Richland Hills, Texas, which is about 30 miles from Dallas, and is said to be designed for the "ultimate theme park experience for little ones." Visitors can expect multiple Peppa-themed rides, interactive attractions, themed playscapes, and shows. Kids can also look forward to meeting Peppa IRL, and maybe even George Pig, Suzy Sheep, and Candy Cat. No word yet if one of the interactive attractions will include muddy puddles or a prank call, but it doesn't hurt to keep our fingers crossed.
North Richland Hills Mayor Oscar Trevino noted in a press release that the new theme park will be next door to NRH2O Family Water Park, which has been operating in the town since 1995. "North Richland Hills is known for its family-friendly amenities and activities and we could not be more thrilled to add Peppa Pig Theme Park to the mix. This will be a great addition to our community," Trevino said.
A new Peppa Pig theme park is set to open in North Richland Hills, Texas in 2024.Merlin Entertainment and Hasbro
Merlin Entertainment and Hasbro
An opening date for the new theme park has not been announced yet, but families can stay in the loop by signing up for email updates here.
Peppa Pig has been a hit with toddlers (and parents) since the animated show premiered in 2004. Beyond the show itself, Peppa's gone on a live tour in 40 cities across the United States, inspired some adorable Hunter rain boots Prince Archie was spotted wearing, and she's behind that phenomenon of toddlers picking up a very Peppa-heavy British accent. To put it simply, kids can't get enough Peppa Pig and all the sass she brings with her. Oink!