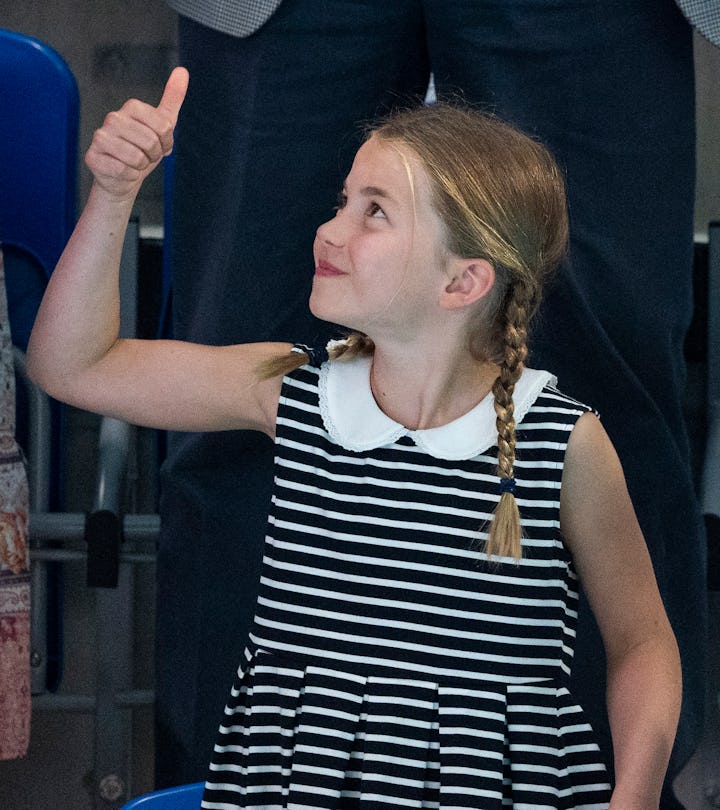 Mark Cuthbert/UK Press/Getty Images
10 Adorable Photos Of Princess Charlotte At Her First Solo Outing With Her Parents
It was a middle child's dream come true!
Prince George isn't the only royal kid getting special solo outings with his parents these days. Sure, the 9-year-old future king was first out of the gate earlier this year, joining his parents at Wimbledon. But it was finally his 7-year-old sister Princess Charlotte's turn to hang out with her parents on her own. On Tuesday, she joined her parents on the sidelines at the Commonwealth Games in Birmingham, looking adorable in a striped dress and braids while also sort of grown up with her cool composure and confidence. Princess Charlotte clearly contains multitudes.
Kate Middleton and Prince William made a swim meet at the Commonwealth Games a family affair, bringing their only daughter with them to join the Earl and Countess of Wessex and their two children, Lady Louise and James, Viscount Severn. This was a big first for Princess Charlotte, and it sure looked like she was happy for the chance to enjoy a royal outing without keeping a weather eye out for shenanigans from her 4-year-old brother Prince Louis.
This time around, Princess Charlotte was the star of the show. And it was a middle child's dream come true.
Now that we've seen Princess Charlotte triumph at her first solo outing with her parents, we can only hope that these become more and more common. Because we just can't get enough of the future Princess Royal. Always entertaining, and always having the time of her life. Especially when she gets the limelight all to herself.