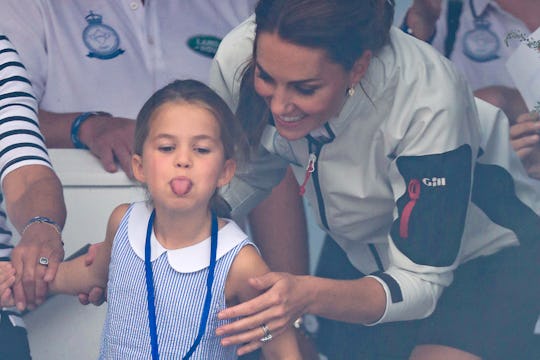 Chris Jackson/Chris Jackson Collection/Getty Images
24 Photos Of Princess Charlotte Making Silly & Cute Faces
She's just so expressive.
This next generation of royals might not exactly follow the old stiff upper lip mindset of their ancestors. Especially not if these photos of Princess Charlotte making silly and cute faces are anything to go by. The hilariously expressive daughter of Prince William and Kate Middleton, the Duke and Duchess of Cambridge, is not about hiding her emotions, and truly we just love to see it.
Princess Charlotte is fourth in line to the throne, behind her grandfather Prince Charles, father, and 8-year-old brother Prince George. In fact, she made history as the first female member of the royal family to hold her place in line even after little brother Prince Louis was born in May 2018.
Regardless of her lofty position, 7-year-old Princess Charlotte still acts like a regular kid. A precocious little girl full of personality, yes, but a regular kid nonetheless. Even if there happens to be media lurking around, which is frequently the case for members of the royal family, Princess Charlotte always seems to just be herself. If she feels like crying or getting upset or even sticking her tongue out at someone, she's going to do it. Cameras or no cameras. And thus, she has become a delight to us all.
No matter the occasion, you can always count on Princess Charlotte for a laugh. May she always remain this iconic.
This article was originally published on