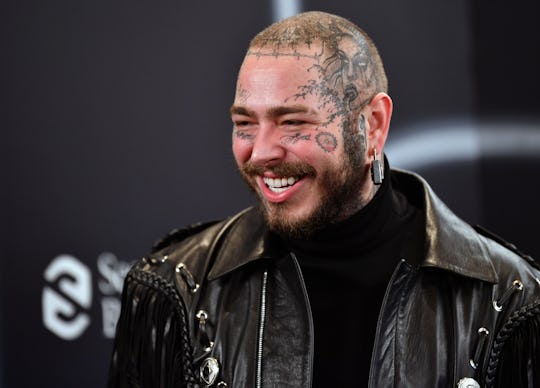 Amy Sussman/BBMA2020/Getty Images Entertainment/Getty Images
Post Malone Says He's "Pumped Beyond Belief" To Become A "Hot Dad"
He's ready for hot dad season to begin.
If you think you're excited to see Post Malone to become a dad, it's nothing compared to his excitement. The "Sunflower" singer is super ready to be a "hot dad" once his first child arrives.
Malone first told TMZ at the beginning of May that he and his girlfriend, whose identity he has chosen not to share, are expecting their first baby together. "I'm excited for this next chapter in my life," he told the outlet. "I'm the happiest I've ever been, and for since I could remember I was sad. Time to take care of my body and my family and friends, and spread as much love as we can every day."
Becoming a dad is something Malone has been thinking about almost his whole life, he told Apple Music's Zane Lowe on his podcast The Zane Lowe Show. "As a kid, I was like 4 or 5, and I had this little baby I would carry around everywhere," he said on the podcast, per People. "It was a baby doll. And I thought that was the coolest thing. I would take him around everywhere. And I don't know how long that lasted. But my mom still has it."
Trying not to gush but my goodness. How sweet is that?
Malone, whose real name is Austin Post, told Lowe that he was "pumped beyond belief" to become a dad. And not just any kind of dad. He's ready to be a "hot dad." He didn't explain how he defined being a hot dad, but I believe in him. Truly just his genuine joy and earnest excitement about fatherhood is enough to earn him that title.
Like when he spoke to Jimmy Fallon on The Tonight Show in May about what he thinks the "most important thing is as a dad," and he really just spelled it out with one word: "kindness." Malone believes that kindness will be his guiding light when he becomes a dad. Perhaps it's a lesson he learned from his own dad, Rich Post. When Malone was a young musician trying to find his way, his parents would "drive him all over the place anyplace that would let him play. Open mic nights, where he'd do covers of Guns N Roses and Outkast," the proud dad told The Post-Standard.
He was raised by supportive parents. He wants to be a kind dad to his baby. That's hot dad behavior.