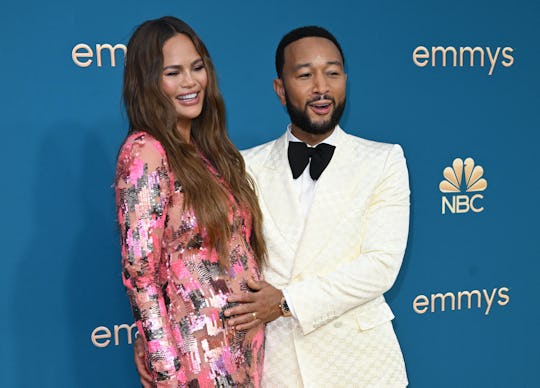 ROBYN BECK/AFP/Getty Images
Chrissy Teigen & John Legend Are Back On The Red Carpet
And she already needs a snack.
Chrissy Teigen and John Legend are back on the red carpet, and they're not alone. The couple arrived at the 2022 Emmy Awards looking so excited to be there. As long as there are snacks, of course. The pregnant Cravings cookbook author made it very clear on Twitter that she was already thinking about the snacks and hoping there would be enough...
The Emmys mark the couple's first big red carpet event since Teigen announced that she was expecting again at the beginning of August on Instagram. A "secret" she had been struggling to keep from her millions of followers. "Every appointment I've said to myself, 'ok if it's healthy today I'll announce' but then I breathe a sigh of relief to hear a heartbeat and decide I'm just too nervous still," she wrote on Instagram at the time. "I don't think I'll ever walk out of an appointment with more excitement than nerves but so far, everything is perfect and beautiful and I'm feeling hopeful and amazing. Ok phew it's been very hard keeping this in for so long!"
Now her secret is out, and both she and Legend, who are parents to 6-year-old daughter Luna and 4-year-old son Miles, look so excited to share their joy with everyone. Especially on the red carpet where they were both all dolled up, Legend in a chic white-jacket tuxedo and Teigen in a long-sleeved floral sequined dress.
Teigen, I suspect, will look much happier if everyone at the Emmys gives her their allotted snacks. Because, as she shared on Twitter, "I'm gonna need more than this lol" alongside a photo of a chic little box of goodies.
In the month since Teigen shared her pregnancy with the public, the renowned foodie has been open about needing her snacks, even when they're a little, shall we say, unusual. Like watching Kitchen Nightmares, a show renowned for sharing pretty disgusting-looking food. Teigen admitted back in August that she was "at the pregnancy stage where everything on kitchen nightmares actually looks pretty tasty."
At least the snacks in that tiny box looked a little more delicious than some of the concoctions on Kitchen Nightmares. And I feel like Teigen could get a pizza delivered to the Emmys if she really needed it. She is pregnant, after all. The regular rules should not apply.