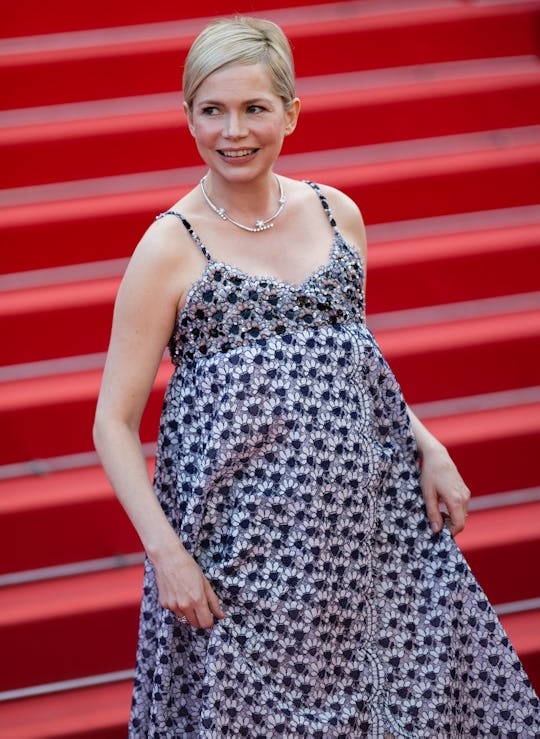 Samir Hussein/WireImage/Getty Images
Michelle Williams Debuts Baby Bump On The Cannes Red Carpet
Florals are the new black!
The French Riviera is a pretty romantic spot to spend your pregnancy, and Michelle Williams glowed like a floral goddess at the Cannes Film Festival when she debuted her baby bump on the red carpet. This is the A-lister's second child with director Thomas Kail, and she also shares 16-year-old daughter Matilda with the late actor Heath Ledger. Williams might be expecting again, but she was in full working-mom mode in France, promoting her new film, Showing up, and she looked absolutely stunning.
This isn't the first time Williams crushed it as a pregnant fashion icon. The Brooklyn-based actress also glowed at the 2020 Golden Globes when she was carrying her second child. Williams opened up to Vogue about the "love at first sight" dress (which just so happens to be Chanel Haute Couture) that she wore to this year's Cannes Film Festival: "It is an exquisite representation of romance and glamor — everything I hope to feel when I get dressed up," she said in the interview that also features pictures of the actress getting ready for her big night out.
The Dawson's Creek alum embodied elegance and Hollywood glamour in the black and white Chanel gown that was a striking blend of floral appliqué and sequins. For another Cannes look, Williams opted for chic black pants and matching top that gave a peek of her growing bump.
Williams is delighted to be a third-time mom and gushed about her latest bundle in a recent interview with Variety. "It's totally joyous. As the years go on, you sort of wonder what they might hold for you or not hold for you. It's exciting to discover that something you want again and again, is available one more time. That good fortune is not lost on me or my family," she said.
Williams gave birth to her second child, Hart, during Covid lockdown. "It was a reminder that life goes on," she said. "The world we brought a baby into is not the world we thought we were bringing a baby into, but the baby is ignorant of that. He experiences the unmitigated joy of discovery and the happiness of a loving home."
Modern florals are becoming a trend for the coolest moms of Hollywood, and Williams is not the only star to rock this classic pattern with a sparkly twist. Rihanna also slayed in one of her most iconic maternity looks with a red-hot floral, lace bodysuit on the cover of Vogue, that was later the inspiration for a work of art.
Fashionista moms-to-be, you're officially on notice: florals are the new black.