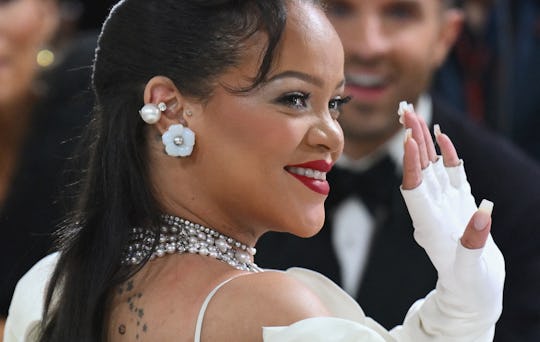 ANGELA WEISS/AFP/Getty Images
Rihanna's "Use A Condom" T-Shirt Might Be Her Most Iconic Maternity Look Yet
Motherhood has really brought out Rihanna's irreverent sense of humor. She has made it clear from day one that she would take on her new role as mom on her own terms, and one of those terms appears to be not taking herself too seriously. As evidenced by the expectant mom sporting an oversized "Use A Condom" t-shirt in a recent series of Instagram photos. Sure, the tongue-in-cheek message is being delivered too late for Rihanna. But she is having a great time with it all the same.
Rihanna is currently expecting her second child with boyfriend A$AP Rocky. The couple are also parents to their 1-year-old son, who they named RZA Athelston Meyers in honor of the founding member of the Wu Tang Clan. While the proud parents have not offered up any information about their second baby's sex or due date, Rihanna has been having a little fun with her pregnancy on social media. Most recently with an Instagram photo shoot where she looked impossibly chic outfitted in slouchy white boots, white sunglasses, and a huge t-shirt over her pregnant belly reading "Use A Condom." She added in the caption, "this shirt is old..." because she's all about comedic timing.
Naturally Rihanna's many fans loved the shirt and loved her for wearing it while she is pregnant. "Not rihanna telling to use à condom while being pregnant" wrote one user with a laughing face emoji while another joked, "Girl I know you ain't talking Ms two babies in two years."
The "Disturbia" singer's t-shirt is not the first time she's been decidedly unconventional. Back in February, she made waves for saying that her baby boy was "so fine" and went on the offensive when some commenters questioned her on it. "You just keep your lil cougar paws away from him and we good," she responded, leaving her fans wondering if she was kidding or not. She reportedly had a rave-themed baby shower, and admitted in an interview with Access Hollywood that the first few weeks of motherhood felt like she was "tripping on acid."
Rihanna has already figured out one of the secrets to enjoying parenthood. A sense of humor. And obviously a stack of giant t-shirts, no matter what the message on the might be.