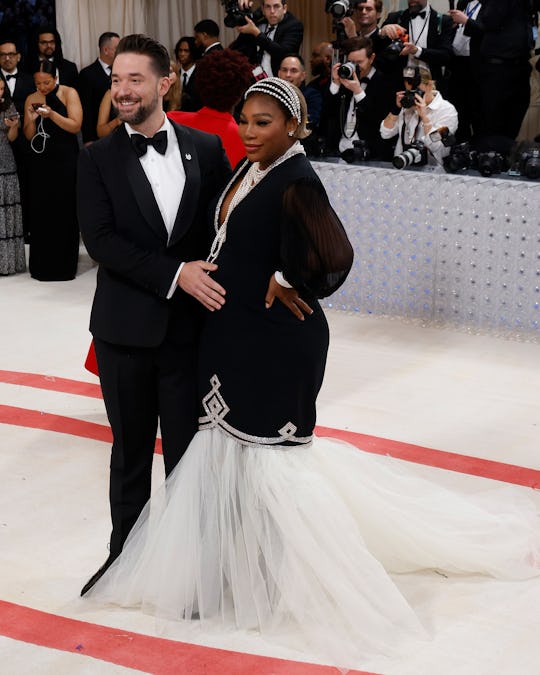 Taylor Hill/Getty Images Entertainment/Getty Images
Serena Williams Asks If Her Baby Bump Is In The "Front Or The Back" In Gorgeous Photo
"Lady that back was there before the baby...you look fab."
Serena Williams and her husband Alexis Ohanian are currently enjoying one heck of a babymoon. The couple flew off to Italy to see Beyoncé perform on the European leg of her Renaissance tour and Williams made the most of the romantic background for a recent baby bump photo taken from two different perspectives. From the front and the side. Because angles make all the difference.
Surrounded by flowers, the tennis champion wore a strapless black column dress in series of photos she shared on Instagram. Williams, who announced to the world that she was expecting a little sibling for 5-year-old daughter Olympia at the Met Gala in early May, took one photo from the front.
"CAUTION: Things are not always how they appear," Williams captioned her post. "I am Seriously trying to figure out if the baby is in the front or….back. … slide right." Williams went on to share a photo taken from the side where she is seen cradling her baby bump.
Her followers were quick to share praise of both photos but especially the one taken from the side where the expectant mom joked about the baby being in the "front or the back." One user wrote, "Girl... you've always had back.. Embrace it🙂. The baby is in the front," while another concurred that Williams looked amazing. "Lady that back was there before the baby...you look fab."
Her husband Alexis Ohanian offered a little insight into her pregnancy in the comment section as well when he appeared to answer Williams' question. "This kid somehow kicks more than Olympia. It's everywhere."
While Williams often exudes confidence, she recently opened up in an Instagram post about struggling during her pregnancy. "Being confident is not always easy. Not even for me! Especially taking pics and being pregnant! Sometimes people close to you will try to take your joy — but it's important to remember who you are and never be afraid to shine," she wrote on Saturday. So these positive comments could not have come at a better time for the former Olympian. Or for anyone else who might be struggling as well.