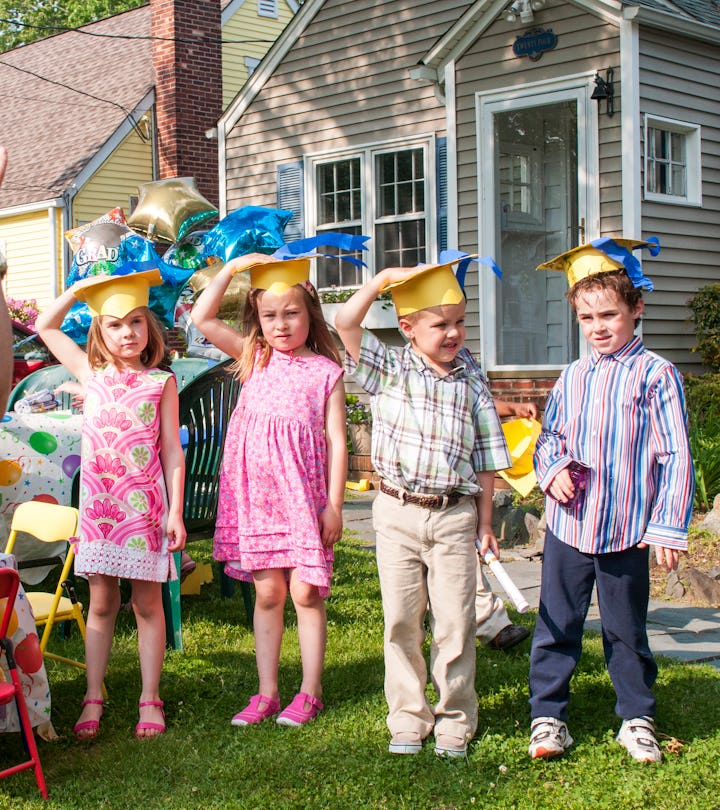 Sue Barr/Image Source/Getty Images
14 Preschool Graduation Songs You'll Love To Sing Along To
Help them get ready for kindergarten with some catchy tunes.
Graduation ceremonies are a time to celebrate all that your child has accomplished over the last year, and all of the things that they have to look forward to in the coming years. A preschool graduation ceremony is especially exciting: It's likely the first graduation ceremony that your little one will be involved in, and watching them stand up there will bring tears to your eyes. You'll need some adorable preschool graduation songs to really set the mood — plus, they're also a great way to get your tot excited and cheerful.
At preschool age, most kids adore fun, playful songs that they can easily sing along to. The best preschool graduation songs are ones that are short and sweet and set to a whimsical tune — something they already know and love is perfect (think lyrics about graduation set to the melody of a beloved nursery rhyme like Twinkle Twinkle Little Star). You can make a playlist of cute songs that you can play for your little one in the days and weeks leading up to their graduation to get them excited and to give them a better understanding of what they can expect when they leave preschool behind. And, of course, these are all great to play during any graduation celebrations you might have going on. Here are the cutest preschool graduation songs your toddler will love singing along to.
Music is such a fun way to teach your kids things like how to say goodbye and how to get ready for something new, which is exactly why these preschool graduation songs make an excellent addition to their big day. Play these well in advance of graduation to really help prepare them, and be prepared to have some of these stuck in your head for quite a while.