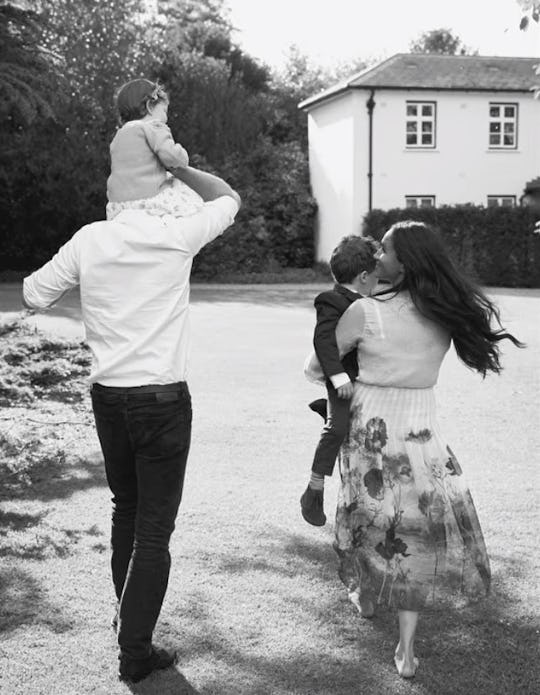 Netflix
Prince Archie & Princess Lilibet Are The Official New Titles Of The Sussex Kids
Prince Harry and Meghan Markle just casually dropped the news.
Archie and Lilibet are officially little royal highnesses now. After months of debate about whether or not Meghan Markle and Prince Harry's two children would be offered royal titles, that debate has now ended. Introducing Prince Archie and Princess Lilibet to the world. It's been a real journey for the entire family, but it seems everyone is comfortable with where things landed.
Lilibet's new "princess" title was revealed in her christening announcement.
Little Lilibet "Lili" Diana was christened last Friday, according to a spokesperson for the Duke and Duchess of Sussex, and her new title was slid into the announcement like it was no big deal. "I can confirm that Princess Lilibet Diana was christened on Friday, March 3 by the Archbishop of Los Angeles, the Rev John Taylor," the spokesperson told People. That's right, they slipped her new title of princess right into the christening announcement.
The palace confirmed their new royal titles.
After Harry and Meghan shared their 1-year-old daughter's new title, a royal source confirmed that King Charles had indeed agreed to her change in title along with 3-year-old brother Archie's new title of Prince Archie, telling The Mirror that "the website will now be updated in due course." As of March 9, 2023, the royal family's website now lists Meghan and Harry's children as Prince Archie of Sussex and Princess Lilibet of Sussex.
King Charles and Prince Harry had discussed the change ahead of time, per The Mirror's source, who added "the appropriate conversations have taken place ahead of today's news (of Lilibet's christening)."
Why do Archie and Lilibet have new royal titles?
When Prince Harry's father became King Charles III after Queen Elizabeth's death last September, the two children were automatically able to be fashioned as HRH (his/her royal highness) because of a royal rule dating back to 1917. They moved up in the line of succession after Queen Elizabeth's death, but their titles did not change on the royal website. Now, just months ahead of King Charles III's coronation, the time has come for the two children to claim their rightful titles.
Archie was not given a royal title at birth.
The topic of royal titles has been a touchy one for the Sussexes and the rest of the royal family. Meghan told Oprah Winfrey in a 2021 interview that she and her husband wanted Archie to be a prince for "security reasons" but were denied. The family stepped down from their senior royal roles before Archie's first birthday, and Lilibet was born in California, with the rift widening between them and the rest of the royal family since. A rift that has presumably exacerbated by Prince Harry's recent memoir Spare.
Welcoming Prince Archie and Princess Lilibet into the royal title fold could well be a step towards reconciliation. They may even attend their grandfather's coronation with their parents as they have been invited. Will wonders never cease.
This article was originally published on