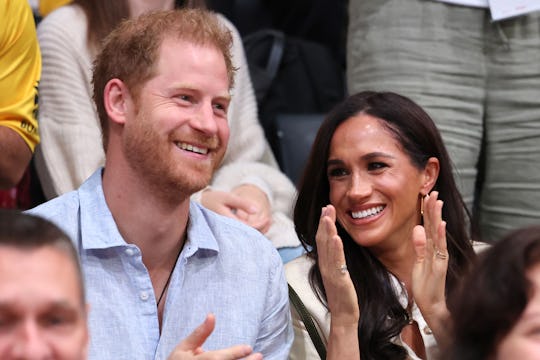 Chris Jackson/Chris Jackson Collection/Getty Images
Prince Harry Enjoyed A Kid-Free Birthday Celebration In Germany
They drank beer and ate wiener schnitzel.
Prince Harry has made it patently clear that he really enjoys being at home with his family for most big celebrations in his life. Especially now that he's dad to 4-year-old son Archie and 2-year-old daughter Lilibet, who he shares with wife Meghan Markle. Both parents have been all about quiet birthdays at home with their little ones over the past few years, but every once in a while, every parent needs to shake things up. And this year, Prince Harry's 39th birthday celebrations were an epic kid-free night of beer drinking in Germany with his wife and friends.
The Duke and Duchess of Sussex are currently in Düsseldorf, Germany to support the Invictus Games, the Olympic-style competition Prince Harry founded to encourage wounded veterans to compete. On Friday, the dad of two celebrated turning 39 years old with some sweet support from the crowds at Invictus.
Everyone in the stadium sang "Happy Birthday" to him as he looked bashful and sweet, giving a "thumbs-up" sign and turning his attention to the little boy sitting next to him as Meghan cheered and smiled.
It was all very sweet, but it was actually his pre-birthday celebration where the parents of two were able to let loose a bit.
On Thursday evening, Prince Harry joined Meghan and several of his friends at a local brewery in Düsseldorf called Schumacher Altbier-Manufaktur, where they drank beer and ate some of the local food like wiener schnitzel, pork knuckle, sausage, roast and mashed potatoes. According to brewery head waiter Frank Wackers, the birthday boy helped himself to six small, half pints of beers and finished off his evening with a white chocolate birthday cake from the staff. "They were very happy," Wackers told The Daily Mail. "He is a lovely man, and they were so nice."
They even posed for a photo with the staff looking happy and relaxed and casual as can be. Classic parents' night without the kids, really.
Meghan and Harry left Archie and Lilibet back at home in Montecito, California to attend the Invictus Games together. Meghan came four days after her husband as she was busy getting the two kids "settled" into their routine and doing the school drop-off. But she made it to Germany in time for her husband's birthday.
Just in time to go out for wiener schnitzel and beer and have a night without the kids. Perfect birthday plans, no notes.