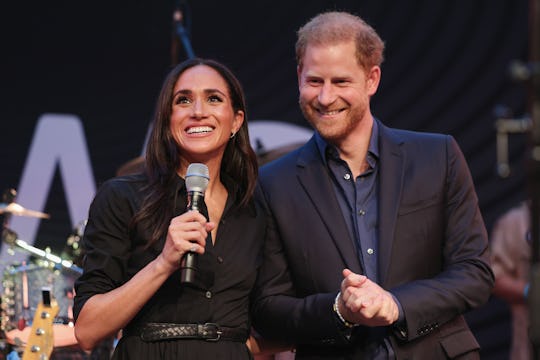 Chris Jackson/Chris Jackson Collection/Getty Images
Prince Harry Cracks Joke About Meghan Markle's "Competitive" Side
Not that she's playing favorites, of course.
The Invictus Games are currently underway in Düsseldorf, Germany, and as one of the co-founders of the yearly event, of course Prince Harry has been there every step of the way. His wife Meghan Markle is set to arrive at the end of the games to deliver a speech, and she might want to do a bit of revising after his tongue-in-cheek comment about her "competitive" streak in his own speech this week. Certainly as a competitive person, it seems only natural.
The Duke of Sussex spoke at the opening ceremonies of the Invictus Games, which he helped to create back in 2014 as a way for wounded veterans to compete in an Olympics-like set of games. During his speech, he referenced his wife and her possible affinity for one particular team because of her own personal history.
"Now, I'm not saying we play favorites in our home, but since my wife discovered she's of Nigerian descent, it's likely to get a little bit more competitive this year," the dad of two told the crowd, according to Entertainment Tonight.
Meghan Markle, competitive mother of two, officially joined her husband in Düsseldorf on Sept. 12, so let the games begin.
The couple have a rather romantic history with the Invictus Games, going official at the Invictus Games in Toronto back in 2017 after a full year of dating. At that first event, Markle let her husband take the lead but in the years since she has taken a more hands-on approach to her involvement in the event. She has handed out medals to winners over the years and even given speeches, as she is expected to do at the closing ceremony this year.
At the 2022 Invictus Games in The Hague, the first since 2019 as they were cancelled due to the pandemic, Markle stood on stage to introduce her husband and father to their two children, 4-year-old son Archie and 2-year-old daughter Lili. "It is my distinguished honor to introduce someone that I think you'll all be very excited to hear from. I could not love and respect him more and I know that all of you feel the same," she told the crowd at the time before adding, "He's the founder of the Invictus Games, and the father to our two little ones, Archie and Lili. Please welcome my incredible husband, Prince Harry, the Duke of Sussex."
This year's speech might get in a little less gushing and a little more ribbing if Meghan is taking Prince Harry's lead.