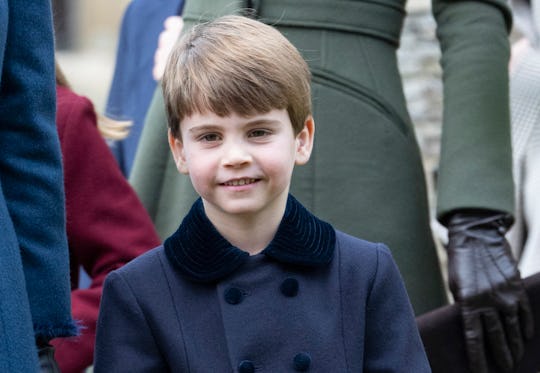 Mark Cuthbert/UK Press/Getty Images
Prince Louis Knows Exactly How To Unwind After A Long Day At School
We love a self-aware little prince.
After a long day at Lambrook School, 4-year-old Prince Louis apparently knows exactly what he needs to unwind in the afternoon. His mom Kate Middleton shared a little insight into her youngest son's after-school routine, and he honestly sounds like the most self-aware kid out there. Or perhaps at least the most self-aware little royal.
The Princess of Wales was visiting a therapy garden at a rehabilitation center in Wales with husband Prince William earlier this week, discussing the many benefits of spending time outdoors. Something her three children, 9-year-old Prince George, 7-year-old Princess Charlotte, and young Prince Louis enjoy immensely. Especially Prince Louis. Middleton was heard telling other people at the garden that her youngest son makes a special request at the end of each school day.
"Louis comes home and says: 'I need to get my energy out,'" Middleton revealed, per The Express.
In fairness to Lambrook School's amazing curriculum, it sounds as though Prince Louis has plenty of time during the school day to get his energy out. In equal fairness to Prince Louis, we all remember him at Queen Elizabeth's Platinum Jubilee. He might have more energy to let out than your average little royal.
Prince Louis' love of gardening and the outdoors is certainly in keeping with the rest of his family. His grandmother Carole Middleton has talked in the past about how she likes all of her grandchildren to work with her in the garden. "If I'm doing planting with my grandchildren, I like to have it all laid out at 'activity stations' with their own little trowel and pot so they can get started immediately," Middleton told Saga in 2021. "It's no good calling children over to an activity, only for you then to have to fuss about looking for the right equipment and clearing a space. They'll soon lose interest and slope off."
Taking after her mother, Kate Middleton also likes to keep her kids busy in the garden. She even has gotten them into the habit of grabbing their snacks there, which feels like sort of a genius idea. Especially as Prince Louis probably gets hungry sending himself out to the garden at the end of a long school day to work off his energy. We love a self-aware little prince.