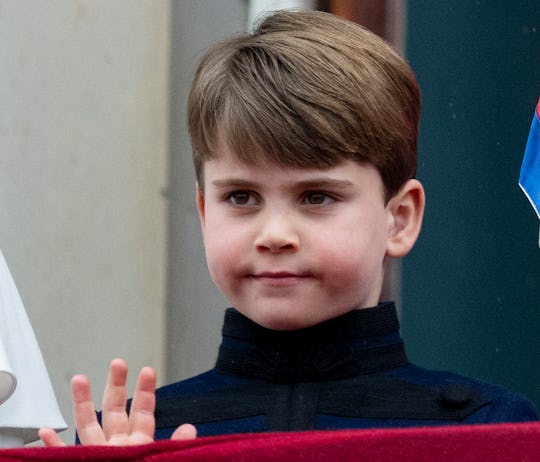 UK Press Pool/UK Press/Getty Images
Prince Louis Has Taken On A Gardening Project That You Can Totally Copy With Your Kids
Every garden needs some broad beans, right?
Kate Middleton truly has found her little mini-me in 5-year-old son Prince Louis. Not only does he look a whole lot like his mom, but he's also following in her footsteps with his outdoorsy, back-to-the-land interests. Indeed, young Prince Louis has a gardening project he's working on at school, and it's easy enough for you to do with your own kids, too.
The Princess of Wales joined young students at the Royal Entomological Society garden on Monday at the Chelsea Garden Show for the inaugural Children's Picnic, and it was a royal engagement tailor-made for the mom of three. She has a deep love of getting back to nature, so much so that she created her own entry for the Chelsea Garden Show back in 2019 and called it Back to Nature.
Middleton has passed her love of the outdoors on to all three of her kids, including 9-year-old son Prince George and 8-year-old daughter Princess Charlotte. But it looks like the "baby" of the family Prince Louis is the one who is turning into her little apprentice. During her visit, Middleton told the children that her youngest son has his own gardening project at Lambrook, the school he attends with his siblings.
"Louis is growing broad beans at school. You put them in a cup and you can see the roots growing. They get big quickly like sunflowers," Middleton said during her royal outing, per People.
Prince Louis' project is actually one that kids can try at home as well and as Middleton pointed out, they grow quickly so it's quite satisfying for little ones. You can use either a glass jar or a plastic container, put in some soil and some seeds for broad beans (or fava beans as many people call them) and watch them grow fast. Watching their beans grow might even encourage kids to actually eat them, which we all know can sometimes be a bit of a challenge.
Middleton has long extolled the virtues of spending lots of time outdoors with her kids, and it's a family trait. Her mom Carole Middleton gardens with her royal grandchildren, and the Princess of Wales has carried on with that tradition. Her oldest son Prince George has farm chores at the family's country home of Anmer Hall, feeding the farm animals. Princess Charlotte has a fascination with nature as well, so it's clearly something that bonds this family.
As for Prince Louis, I suspect that his mom is happy to keep him outdoors to burn off all his energy at the end of the day. So perhaps this gardening venture will be just the thing.