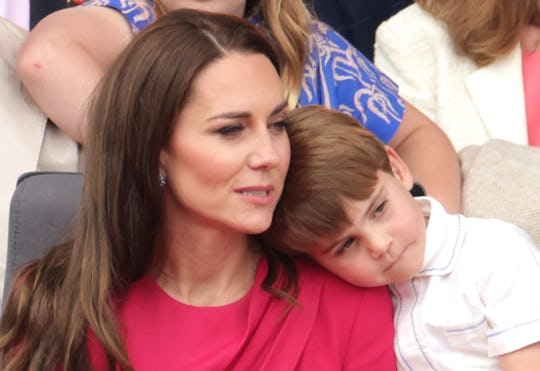 Chris Jackson/Chris Jackson Collection/Getty Images
Prince Louis Looks Like Kate Middleton As A Baby In This Never-Before-Seen Photo
He's a Middleton through and through.
There has been much discussion over the years on who 9-year-old Prince George most resembles, or who his 7-year-old sister Princess Charlotte takes after. From one angle Prince George looks like his own father Prince William, for instance, while from another he might look like his great-grandmother Queen Elizabeth as a child. The same holds true for Princess Charlotte. Sometimes she looks an awful lot like her late grandmother Princess Diana, other times she's a carbon copy of Queen Elizabeth. But when it comes to their 4-year-old brother Prince Louis, he is simply his mom's twin. And Kate Middleton just shared a throwback photo of herself as a baby as evidence.
Over the weekend, Middleton shared a photo of herself as a baby looking at her dad Michael Middleton to support her new early years campaign, Shaping Us. "This weekend, we'd love for you all to spend time with your friends, families, colleagues and communities talking about your early childhoods and how they've shaped your lives," the Princess of Wales wrote on Instagram. "I hope you'll also consider joining me in sharing a picture of yourselves before your fifth birthday to help with those conversations and to share some smiles and memories too."
Naturally the comments were almost immediately focused on how much the Princess of Wales looked like her youngest child. "Is is just me or is there a very big resemblance between Cathrine and Louis?" wrote one social media user while another added, "Louis or Catherine?! Mummy's twin."
This is not the first time royal watchers pointed out how much Prince Louis looks like his mom. Two years ago Middleton shared a photo of herself as a toddler walking beside mom Carole Middleton and the resemblance was striking at that time as well. So much so that Middleton herself has reportedly taken notice. "Everyone always comments on how Louis is the spitting image of Kate," a friend of Middleton's told People in 2021. "She loves it and thinks it's very sweet, she often jokes that he's the only one of her kids who actually looks like her!"
Prince Louis is very much his mother's baby boy and a classic third child, so it feels sort of poetic that he also looks so much like his mom. Add that to the fact that he's clearly a hilarious kid to be around, and you've got a winning combination.